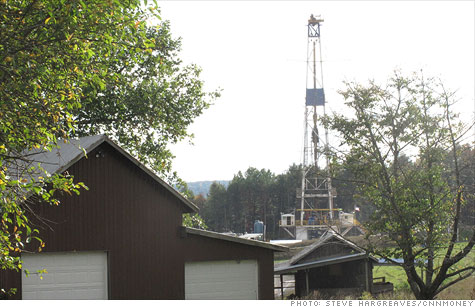 The Duke report finds high levels of methane in half of water wells near drill sites.
NEW YORK (CNNMoney) -- A new study from Duke University found potentially explosive levels of methane in drinking water supplies located close to natural gas wells.
A new study from Duke University found potentially toxic levels of methane in drinking water near natural gas wells -- levels so high they create the risk of explosion.
The study, released Monday, said about half of the 68 drinking water wells tested in Pennsylvania and New York located within a half a mile from natural gas wells had high levels of methane -- the prime ingredient in natural gas fuel.
"We found concentration levels where you have to worry about explosions," said Robert Jackson, an environmental sciences professor at Duke and one of the study's authors.
The gas, which is usually located thousands of feet below the water table, appears to be entering the water wells either through cracks in the bedrock or, more likely, the casing in natural gas wells, said Jackson. Casings are steel and concrete barriers natural gas companies use to line a well where it passes through the water table.
Jackson suspects hydraulic fracturing may be to blame. The process, known as fracking for short, uses vast amounts of chemically-laced water, sand and pressure to crack the shale rock and release the gas.
The combination of expensive energy prices and new drilling technology has unleashed huge amounts of cleaner-burning natural gas in America, and created thousands of well-paying jobs.
But it's also raised fears over water contamination, especially in the Northeast's Marcellus Shale, a rock formation containing natural gas that stretches from New York to Georgia.
Some believe the frack chemicals could migrate up to the drinking water or enter it by an accident during the drilling process. There have also been instances where surface water has been contaminated by spills.
And while methane may not be harmful to drink, it has led to cases of exploding buildings and ignitable tap water.
Jackson thinks the sand and high pressure used in the fracking process may be weakening the well's casing, allowing the gas to seep out. He noted that his team did not find any evidence of the fracking fluids themselves in any of the drinking water wells.
The gas industry criticized the study's methodology, saying the well samples were not random and that no baseline data existed before the study.
"Once again, what you have here is a paper that draws pretty firm conclusions without much data at all to back any of them up," Energy In Depth, a coalition of energy producers, said in a statement.
Jackson said the study was indeed not random, but that was because they needed homeowners permission to test their water.
The industry has previously said that many of these drinking water wells contained methane before natural gas drilling began, and that's it generally not harmful or problematic.
Jackson said his study makes that argument "harder to believe." He said many of the water wells that had very little methane weren't near drill sites and sat atop vast gas deposits.
The Duke study, published in the Proceedings of the National Academy of Sciences, is one of the first peer-reviewed, scientific studies looking at shale gas extraction.
Another peer-reviewed study a few months back from Cornell Professor Robert Howarth was even more critical.
Howarth argued that natural gas is actually worse for the climate than coal because a lot of methane -- a potent greenhouse gas -- escapes from natural gas wells.
Natural gas supporters, including many environmentalists, said the Cornell study didn't look at methane's influence on climate far enough into the future and overestimated how much methane escapes.
So far, most environmentalists tend to follow the position of the International Energy Agency's chief economist Fatih Birol: That shale gas development and fracking should continue, albeit with tighter regulations, because making that process safer "is far easier than dealing with climate change."