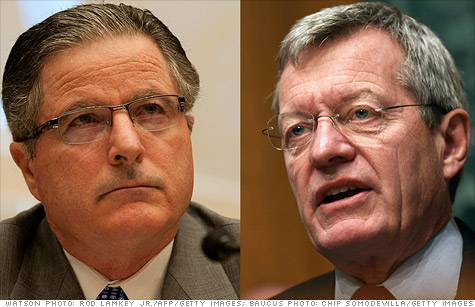 Chevron CEO John Watson will testify before Sen. Max Baucus and the Senate Finance Committee.
NEW YORK (CNNMoney) -- The oil execs are coming to Washington.
And that means the long-running battle between Democrats, Republicans and oil companies over tax breaks will intensify on Thursday when industry leaders face questions from the Senate Finance Committee.
At issue: Legislation that would cut $21 billion in oil and gas subsidies over the next ten years.
Chevron (CVX, Fortune 500) CEO John Watson will attend Thursday's hearing, as will Shell (RDSA) President Marvin Odum and BP (BP) America Chairman Lamar McKay, company representatives confirmed. ConocoPhillips (COP, Fortune 500) CEO Jim Mulva will attend, and so will Rex Tillerson, CEO of Exxon Mobil (XOM, Fortune 500).
Pushed by rising gas prices, the White House has in recent weeks asked Congress to end tax incentives they say oil and gas companies don't need, especially as the industry posts record profits.
The oil industry and many of its supporters in Congress -- mainly Republicans -- have argued that the tax breaks encourage domestic oil production and provide jobs for millions of Americans. Any increase in taxes for oil companies will be passed on to consumers, they say.
It's a dance that Washington performs every time prices spike at the pump -- and lawmakers have precious few policy changes to show for their efforts.
Both Sen. Max Baucus, a Democrat who chairs the finance committee, and President Obama have argued that the subsidies should end, and the money should be spent on alternative energy sources.
This all comes as the price of gasoline sits above $4 a gallon in many states, making it increasingly difficult politically to defend the oil industry.
On Monday, Democratic message man Sen. Chuck Schumer of New York married the tax issue to the need for fiscal responsibility.
"This week, we will make an important announcement about policy initiatives to get rid of these subsidies to close our deficits," Schumer told reporters during a conference call. "For us, it's a two-for. We can stop adding to profits of big oil companies and reduce our deficits."
Of course, $21 billion is dwarfed by the projected $1.5 trillion deficit for the fiscal year ending in September. But that won't stop Democrats from using Washington's budget cut fever to press Republicans on the issue.
There is little hope for a bipartisan consensus to emerge. At the same time the Senate is bringing industry execs in for a grilling, Republicans in the House are considering legislation designed to increase domestic drilling.
With lawmakers on both sides of the aisle harping on the need to lower gas prices, the fact remains that little can be done to substantially change market forces in the short-term.
Luckily for those on the Hill, some measure of relief might soon arrive for American consumers.
After a month and a half of daily increases, gas prices have dropped for four consecutive days. Separately, crude oil prices fell sharply last week, which should translate into lower gasoline prices down the road.
--CNNMoney senior writer Jennifer Liberto and CNN's Beth Marengo contributed to this report.