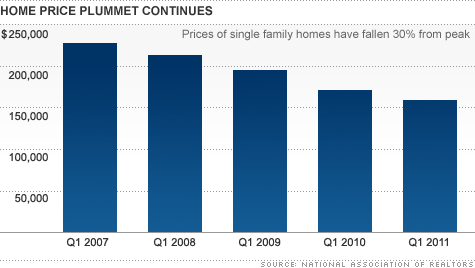 NEW YORK (CNNMoney) -- Home prices continued to plummet during the first three months of 2011, falling 4.6% from a year earlier.
The U.S. median price, according to the National Association of Realtors (NAR), dropped to $158,700 for a single family house. Condo prices fell even harder -- 10.4% to $152,900.
The median home price has now slumped 30% from its 2006 high of $227,100, and prices have fallen nearly 7% so far this year.
"We're seeing prices dropping faster than they did in 2010," said Pat Newport, an analyst with IHS Global Insight. "That's troubling. Falling home prices precipitated the recession and are slowing the recovery."
NAR blamed much of the latest price drop on sales of foreclosed properties. These "distressed" property sales accounted for 39% of the market, up from 36% from a year earlier.
Distressed properties, often in poor condition and are priced to move, sell for about 20% less than conventional home sales.
Those sales attract speculators, investors and cash buyers who gravitate toward lower priced homes, said Lawrence Yun, chief economist for NAR. (How to buy a foreclosure)
The market for distressed properties may further expand over the next few months. Falling prices have sent more mortgage borrowers underwater, owing more on their mortgage balances than their homes are worth. That makes them more likely to default on loans.
"That's a key problem," said Newport. "There are a lot of bad loans in the foreclosure pipeline and we don't know how many strategic defaults [people walking away from their mortgages] will result."
Of the 153 home markets covered by the report, Honolulu recorded the highest median price, $579,300. San Jose, Calif., the heart of Silicon Valley, was second at $545,000, and Anaheim-Santa Ana, Calif. was third at $511,800.
The lowest priced markets were in the Rust-Belt: Youngstown, Ohio ($55,400); Lansing, Mich. ($64,400); and Toledo, Ohio ($64,900).
The biggest losers were Gulfport, Miss. (down 22.8% to $99,400); Akron, Ohio (off 21.4% to $74,900); and Salem, Ore.(down 20.6% to $153,500).

Check out prices in your home town
Abilene
Texas
$110,300
-0.7%
Akron
Ohio
$74,900
-21.4%
Albany
N.Y.
$184,000
0.1%
Albuquerque
N.M.
$167,700
-3.7%
Allentown
Pa.
$186,200
-18.4%
Amarillo
Texas
$120,500
3.2%
Anaheim
Calif.
$511,800
-5.1%
Appleton
Wis.
$115,500
-6.1%
Atlanta
Ga.
$99,800
-9.4%
Atlantic City
N.J.
$212,700
-0.3%
AustInd.
Texas
$188,200
3.1%
Baltimore
Md.
$212,600
-9.5%
Barnstable Town
Mass.
$299,000
-8.2%
Baton Rouge
La.
$160,600
-3.4%
Beaumont
Texas
$125,300
-1.3%
Binghamton
N.Y.
$106,600
3.7%
Birmingham
Ala.
$132,400
-2.0%
Bismarck
N.D.
$159,500
1.0%
Bloomington
Ill.
$149,000
-0.7%
Boise City
Idaho
$127,300
-6.9%
Boston
Mass.
$322,100
0.1%
Boulder
Colo.
$353,400
-2.3%
Bridgeport
Conn.
$342,100
-7.9%
Buffalo
N.Y.
$118,100
10.8%
Burlington
Vt.
$271,200
10.6%
Canton
Ohio
$87,300
6.7%
Cape Coral
Fla.
$91,800
6.3%
Cedar Rapids
Iowa
$129,400
-4.9%
Champaign
Ill.
$134,000
3.0%
Charleston
W.Va.
$122,200
4.9%
Charleston
S.C.
$183,500
-5.7%
Charlotte
N.C.
$195,100
12.2%
Chattanooga
Tenn.
$117,300
3.9%
Chicago
Ill.
$155,000
-11.7%
Cincinnati
Ohio
$112,800
-7.5%
Cleveland
Ohio
$87,000
-19.7%
Colorado Springs
Colo.
$184,300
-0.3%
Columbia
Mo.
$148,800
6.7%
Columbia
S.C.
$135,500
-0.8%
Columbus
Ohio
$114,400
-9.1%
Corpus Christi
Texas
$133,800
3.3%
Cumberland
Md.
$80,700
-17.9%
Dallas
Texas
$143,100
1.4%
Davenport
Iowa
$94,800
-7.5%
Dayton
Ohio
$78,000
-20.3%
Decatur
Ill.
$81,300
8.4%
Deltona
Fla.
$110,100
-7.0%
Denver
Colo.
$223,800
-0.4%
Des Moines
Iowa
$133,700
2.1%
Dover
Del.
$166,500
-12.4%
Durham
N.C.
$158,000
-8.3%
El Paso
Texas
$131,500
2.3%
Elmira
N.Y.
$88,300
-2.8%
Erie
Pa.
$94,500
-1.3%
Fargo
N.D.
$139,400
-0.9%
Farmington
N.M.
$178,900
-6.3%
Florence
S.C.
$107,600
9.2%
Ft. Wayne
Ind.
$82,400
-11.6%
Gainesville
Fla.
$146,300
-5.4%
Gary
Ind.
$101,300
-6.9%
Glens Falls
N.Y.
$141,700
2.2%
Grand Rapids
Mich.
$81,100
-10.6%
Green Bay
Wis.
$128,500
-2.4%
Greensboro
N.C.
$115,700
-4.7%
Greenville
S.C.
$137,200
-2.4%
Gulfport
Miss.
$99,400
-22.8%
Hagerstown
Md.
$121,100
-16.7%
Hartford
Conn.
$213,600
-5.4%
Honolulu
Hawaii
$579,300
-6.7%
Houston
Texas
$148,500
-1.1%
Indianapolis
Ind.
$109,900
-4.4%
Jackson
Miss.
$133,900
9.9%
Jacksonville
Fla.
$127,400
-9.5%
Kankakee
Ill.
$110,000
-4.3%
Kansas City
Mo.
$125,300
-4.1%
Kennewick.
Wash.
$175,400
-0.6%
Kingston
N.Y.
$200,900
-7.5%
Knoxville
Tenn.
$139,700
3.4%
Lansing
Mich.
$64,400
-16.5%
Las Vegas
Nev.
$128,300
-6.4%
Lexington
Ky.
$133,300
-1.6%
Lincoln
Neb.
$132,800
0.0%
Little Rock
Ark.
$127,700
-1.5%
Los Angeles
Calif.
$292,700
-2.0%
Louisville
Ky.
$125,000
-2.1%
Madison
Wis.
$216,300
1.7%
Manchester
N.H.
$204,600
-6.7%
Memphis
Tenn.
$104,200
-8.5%
Miami
Fla.
$153,600
-19.7%
Milwaukee
Wis.
$181,400
-11.0%
Minneapolis
Minn.
$140,600
-13.2%
Mobile
Ala.
$106,900
-8.2%
Montgomery
Ala.
$119,600
-3.7%
New Haven
Conn.
$211,700
-7.1%
New Orleans
La.
$147,900
-4.3%
New York
N.Y.
$375,900
-1.2%
New York
N.Y.
$439,300
0.5%
Norwich
Conn.
$177,100
-13.7%
Edison
N.J.
$303,200
-6.9%
Nassau
N.Y.
$372,000
-1.3%
Newark
N.J.
$360,700
1.2%
Ocala
Fla.
$75,400
-18.8%
Oklahoma City
Okla.
$129,300
-8.1%
Omaha
Neb.
$128,500
-3.3%
Orlando
Fla.
$119,700
-7.6%
Palm Bay
Fla.
$89,500
-15.8%
Pensacola
Fla.
$131,200
-6.8%
Peoria
Ill.
$100,900
-2.5%
Philadelphia
Pa.
$199,100
-5.1%
Phoenix
Ariz.
$126,700
-10.1%
Pittsfield
Mass.
$172,400
-8.5%
Portland
Maine
$199,700
-0.2%
Portland
Ore.
$213,400
-10.1%
Providence
R.I.
$208,500
-1.6%
Raleigh
N.C.
$229,900
4.5%
Reading
Pa.
$140,100
-5.1%
Reno
Nev.
$166,300
-8.3%
Riverside
Calif.
$173,400
-0.3%
Rochester
N.Y.
$114,100
1.7%
Rockford
Ill.
$92,300
-12.1%
Sacramento
Calif.
$169,400
-5.6%
Saint Louis
Mo.
$107,400
-7.5%
Salem
Ore.
$153,500
-20.6%
Salt Lake City
UT
$190,500
-6.5%
San Antonio
Texas
$148,500
4.4%
San Diego
Calif.
$374,800
-1.1%
San Francisco
Calif.
$465,900
-3.6%
San Jose
Calif.
$545,000
-2.7%
Sarasota
Fla.
$147,100
-12.2%
Seattle
Wash.
$287,100
-5.1%
Shreveport
La.
$156,000
6.6%
Sioux Falls
SD
$147,400
2.1%
South Bend
Ind.
$68,700
-1.2%
Spartanburg
S.C.
$108,000
-7.8%
Spokane
Wash.
$159,500
-6.2%
Springfield
Ill.
$117,500
-2.1%
Springfield
Mass.
$169,100
-7.2%
Springfield
Mo.
$111,200
3.6%
Syracuse
N.Y.
$114,400
-1.9%
Tallahassee
Fla.
$133,600
-13.5%
Tampa
Fla.
$113,600
-15.2%
Toledo
Ohio
$64,900
-12.5%
Topeka
Kan.
$92,500
-6.1%
Trenton
N.J.
$218,700
-5.0%
Tucson
Ariz.
$136,800
-18.0%
Tulsa
Okla.
$123,100
-1.4%
Virginia Beach
Va.
$178,000
-8.7%
Washington
D.C.
$294,800
0.8%
Waterloo/Cedar Falls
Iowa
$98,400
-10.1%
Wichita
Kan.
$105,700
-8.0%
Worcester
Mass.
$198,800
-5.2%
Yakima
Wash.
$141,400
-8.5%
Youngstown
Ohio
$55,400
-16.3%
Note1: California prices provided by the California Association of REALTORS«
*All areas are metropolitan statistical areas (MSA) as defined by the US Office of Management and Budget as of 2004. They include the named central city and surrounding areas. N/A Not Available p Preliminary r Revised
† Most current data available
© 2011 National Association of REALTORS®
Baltimore
Md.
$180,300
-11.0%
Barnstable Town
Mass.
$171,100
-28.1%
Bismarck
N.D.
$129,000
-0.8%
Boston
Mass
$265,000
-2.4%
Bridgeport
Conn.
$224,900
-5.4%
Chicago
Ill.
$133,200
-24.1%
Cincinnati
Ohio
$89,800
-19.2%
Colorado Springs
Colo.
$128,400
-0.2%
Columbus
Ohio
$101,800
-10.8%
Dallas
Texas
$116,600
-10.5%
Hartford
Conn.
$165,900
-0.8%
Honolulu
Hawaii
$311,100
1.9%
Houston
Texas
$109,100
-10.7%
Indianapolis
Ind.
$126,400
16.0%
Jacksonville
Fla.
$62,400
-21.7%
Knoxville
Tenn.
$138,900
4.0%
Las Vegas
Nev.
$59,800
-8.0%
Los Angeles
Calif.
$206,100
-11.0%
Louisville
Ky.
$117,800
-5.0%
Madison
Wis.
$147,700
5.2%
Manchester
N.H.
$141,900
-17.4%
Miami
Fla.
$79,200
-16.9%
Milwaukee
Wis.
$151,900
-5.3%
New Haven
Conn.
$157,600
0.9%
New Orleans
La.
$152,800
-19.6%
New Yorks
N.Y.
$251,300
-10.8%
Norwich
Conn.
$142,400
-19.1%
Newark
N.J.
$258,300
-5.7%
Edison
N.J.
$243,000
0.7%
Nassau
N.Y.
$231,100
1.3%
Palm Bay
Fla.
$96,600
18.5%
Philadelphia
PA
$177,300
-5.2%
Phoenix
Ariz.
$71,000
-19.6%
Portland
Maine
$200,000
12.2%
Portland
Ore.
$144,200
-16.3%
Providence
R.I.
$162,000
-11.2%
Reno
Nev.
$69,300
-1.7%
Rochester
N.Y.
$125,700
15.0%
Sacramento
Calif.
$80,500
-9.4%
Salt Lake City
UT
$143,300
-6.0%
San Diego
Calif.
$204,400
-5.2%
San Francisco
Calif.
$357,800
-8.5%
Sarasota
Fla.
$126,600
-31.6%
Springfield
Mass.
$148,300
-8.6%
Syracuse
N.Y.
$128,800
-10.1%
Tallahassee
Fla.
$71,600
-13.5%
Tampa
Fla.
$65,600
-30.7%
Toledo
Ohio
$92,400
-18.4%
Trenton
N.J.
$198,800
-7.3%
Tucson
Ariz.
$93,500
4.8%
Virginia Beach
Va.
$172,000
-3.4%
Washington
D.C.
$216,200
-7.8%
Wichita
Kan.
$87,900
0.0%
Worcester
Mass.
$141,200
-12.7%
*All areas are metropolitan statistical areas (MSA) as defined by the US Office of Management and Budget as of 2004.
** Boston-Cambridge-Quincy, MA-NH - Data from New Hampshire not available
They include the named central city and surrounding areas. N/A Not Available p Preliminary r Revised
© 2011 National Association of REALTORS®