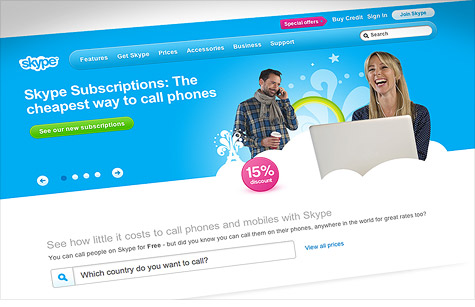 Skype's home page. The Internet phone service is being purchased by Microsoft for $8.5 billion.
NEW YORK (CNNMoney) -- Microsoft has agreed to buy Internet phone service provider Skype for $8.5 billion in cash, the companies announced Tuesday.
Skype -- currently owned by a group led by private equity firm Silver Lake -- will become a new business unit within Microsoft, which will be run by Tony Bates, the company's current chief executive.
Microsoft said it plans to incorporate Skype's real-time video and voice communications into its existing product lines, including Office, Windows Phone and the Xbox gaming system.
As the largest acquisition in its history, the deal marks a significant change in strategy for Microsoft, which has not bought another company since 2006.
"Today is a big day for Microsoft and Skype, as well as businesses and consumers around the world," said Microsoft chief executive Steve Ballmer. The goal, he said, is to "empower people around the world with technology that will bring them together."
Skype has become one of the most recognizable brands in the Internet communication business. It draws 600,000 new registrations every day, and has had annual revenue growth of 40%, according to Microsoft.
The company, based in Luxembourg, filed for a $100 million IPO last year. But the actual offering was delayed, and rumors surfaced last week that the company was in talks with Microsoft and Facebook.
"We're in a very special place in the industry," said Bates, adding that Skype has 100 million users that log 100 minutes each month.
Bates said the company is profitable. But in 2010, Skype reported a net loss of $6.9 million on nearly $860 million in revenue. It had $686 million in long-term debt, and slightly more than $1 billion in liabilities.
Under the terms of the deal, Microsoft will assume Skype's debt.
Christopher Hickey, an analyst at Atlantic Equities, said the price was "slightly expensive," but added that Microsoft plans to use its offshore cash balance to cover the cost. "It's expensive, but it's not the end of the world."
Ballmer said the company decided to fund the deal with its overseas reserves because Skype is based in Europe.
Leif-Olof Wallin, an industry analyst at Gartner, said the move is part of Microsoft's efforts to regain momentum in the consumer technology business.
"I see this as a much broader push of Microsoft into the consumer market and as a way to reduce its dependency on enterprise clients moving forward," said Wallin.
Microsoft has struggled to gain traction with consumers in recent years, as rivals like Google have launched competing products and smartphones have replaced PCs for many users.
"The world is becoming more and more mobile so mobile is an important piece, but the 'uber trend' is Microsoft going consumer," said Wallin.
Shares of Microsoft (MSFT, Fortune 500) were down 1.4% in afternoon trading.
Hickey said investors are weighing the possibility that Microsoft could make additional acquisitions.
BlackBerry maker Research In Motion (RIIM) is one of the companies that has been mentioned as a possible Microsoft target.
However, analysts said Microsoft has had a mixed track record when it comes to mergers and acquisition.
The deal is "strategically a good move," said Trip Chowdhry, an analyst at Global Equities Research. But "internal politics" at Microsoft "is going to kill this wonderful company," he added.
For its part, Skype is no stranger to being bought.
Skype was first purchased by eBay (EBAY, Fortune 500) in 2005 for $2.6 billion. But the partnership did not work out and eBay sold its 65% stake in Skype to an investor group for $1.9 billion in 2009.
The group was led by Silver Lake, but eBay retained a small stake in the company.