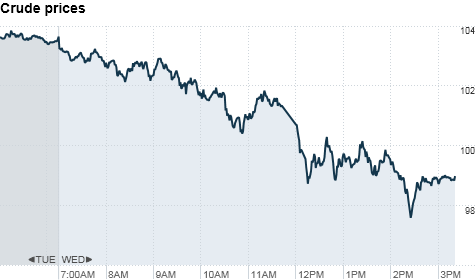 Click chart for more commodity prices.
NEW YORK (CNNMoney) -- Commodity prices across the board took a dive Wednesday, as the dollar rallied against the euro and investors feared that higher global inflation will force central banks to boost interest rates.
Oil prices tumbled almost 6% to $98.21 a barrel, while gold futures slipped 1% to $1,501.40 an ounce. Silver futures dropped nearly 8% to $35.52 an ounce and copper futures fell 3.2% to $3.90 per pound.
The plunge in commodities hit stocks too, as a pullback in energy companies led the broader market lower.
The slide came after China said that its consumer price index rose 5.3% in April, which was slightly lower than the inflation rate in March the but a sign that inflationary pressures remain.
Ongoing inflation concerns may force China's central bank to keep hiking interest rates, a step it has already taken four times since October, in an effort to control growth.
But investors fear that move could trigger a global economic slowdown and weigh on demand for commodities, said James Cordier, president of Liberty Trading Group.
A stronger dollar also added pressure on commodities. The greenback rose 1.5% against the euro as fears about Greece's sovereign debt crisis resurfaced. A firmer greenback makes buying commodities priced in the dollar, like oil and gold, more expensive for investors using foreign currencies.
High margin requirements also drove speculators out of the commodities market, said Cordier. Earlier this week, CME Group raised the initial amount investors have to pay with their own cash when opening a position for crude oil futures. They also raised initial margin requirements for silver futures last week.
"We're starting to see that the idea of higher margins will really slow down the commodities rally," Cordier said. "If the market falls after margin hikes, that shows a lot of the participants were speculators. They're always the first to go."
Earlier in the day, gasoline futures plunged 25 cents, the daily price limit, prompting CME Group to halt trading for five minutes for gasoline, crude oil and heating oil future traded on the New York Mercantile Exchange.
To resume trading, the CME Group expanded its daily price move limits by 200% for all three commodities for the remainder of the session.
The rapid decline came after the Energy Information Administration said gasoline inventories rose by 1.3 million barrels last week, surprising analysts who were expecting gasoline stocks to fall by 300,000 barrels.
"There has been a lot of concern about refineries in Louisiana with the flooding in Mississippi, but the weekly inventory report was much better than expected and reduced supply fears in the market for now," said Dan Flynn, energy trader at PFG Best.