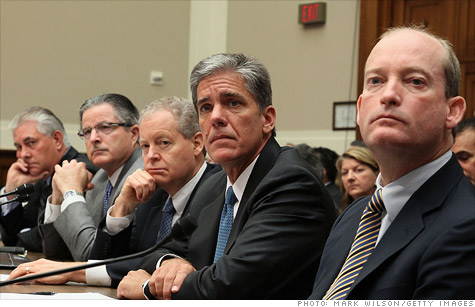 Smile! You're testifying on Capitol Hill: Executives of the Big 5 oil firms appeared last year and will again on Thursday.
NEW YORK (CNNMoney) -- Gas prices sit near $4 a gallon. And guess what? Oil execs are heading to Washington to testify before Congress.
Festivities start Thursday, when representatives of the so-called big five oil companies will be subjected to a ritualistic flogging at the hands of the Senate Finance Committee.
This time around, the lucky winners are Chevron (CVX, Fortune 500) CEO John Watson, Shell (RDSA) President Marvin Odum, BP (BP) America Chairman Lamar McKay, ConocoPhillips (COP, Fortune 500) CEO Jim Mulva and Rex Tillerson, CEO of Exxon Mobil (XOM, Fortune 500).
Pushed by rising gas prices, Democratic lawmakers have ramped up calls to end tax incentives they say oil and gas companies don't need.
On Tuesday, lawmakers introduced legislation that specifically targets the big five. Dubbed the Close Big Oil Tax Loopholes Act, the bill would eliminate tax subsidies for the five largest oil companies and direct those savings to pay down the deficit.
The oil industry enjoys a raft of tax breaks, implemented at different times with different aims.
The biggest is the domestic manufacturing tax deduction. Passed in 2004, it is designed to keep factories in the United States. Also on the chopping block: the foreign tax credit, a provision that gives companies a credit for any taxes they pay to other countries.
The bill would also end write-offs on intangible drilling costs and prohibit companies from treating oil in the ground as capital equipment.
In total, the bill would result in savings of $21 billion over 10 years. That money would then be used to pay down the deficit.
The oil industry and many of its supporters in Congress -- mainly Republicans -- have argued that the tax breaks encourage domestic oil production and provide jobs for millions of Americans. Any increase in taxes would be passed on to consumers, they say.
It's a dance that Washington performs every time prices spike at the pump.
Let's flash back to April 2008, a few months before gas prices peaked at their all-time record of $4.11. Oil execs had been called to testify before the House, and Jay Inslee, a Democrat from Washington, lit into them.
"If you were going to give awards for taxpayer abuses, this would win the Heisman and the Oscar and the Nobel Prize," Inslee said.
The complaint? Tax breaks for oil companies, which had of course been enacted by ... Congress. So not much has changed in the past three years.
How much of this is political theater? Almost all of it.
Harry Reid, the top Democrat in the Senate, acknowledged as much.
"Let's make one thing clear: wasteful subsidies have nothing to do with gas prices. These oil handouts have existed for decades. Prices have continued to rise," Reid said Tuesday.
And any legislation currently under consideration has virtually no chance of surviving passage through the divided Congress, something analysts recognize.
"Given the wide difference of opinion between Republican and Democratic leadership on how to address voter pain at the pump, none of the bills are expected to reach enactment," MF Global wrote in an research note.
But harping on the issue of gas prices provides an avenue to other key political priorities.
Indeed, at the same time the Senate is bringing industry execs in for a grilling, Republicans in the House are considering legislation designed to increase domestic drilling.