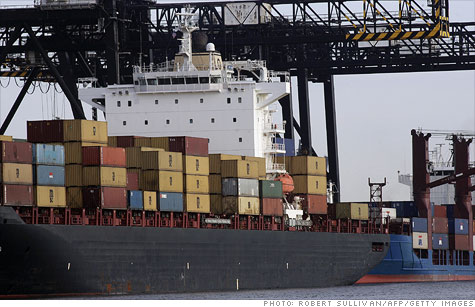 NEW YORK (CNNMoney) -- Surging oil prices drove the U.S. trade deficit further into the red in March, according to government data released Wednesday.
The trade balance, which measures the difference between the nation's imports and exports, burgeoned to a $48.2 billion deficit in March from $45.4 billion in February, the Commerce Department said.
Economists were expecting the deficit to grow due to rising commodity prices, but the gap came in even deeper than the $47.7 billion they had expected.
"The headline is disappointing, but only because of all the impact of the surge in oil prices hit this month," Ian Shepherdson, chief U.S. economist at High Frequency Economics, said in a research note.
Exports totaled $172.7 billion in March, a 4.6% rise from the month before. That kind of growth is strong and an encouraging sign for U.S. manufacturers who export goods abroad, said Jennifer Lee, senior economist with BMO Capital Markets.
But imports grew at an even faster rate to $220.8 billion, or up 4.9% from February, driven by surging oil prices and a weak dollar.
A weak dollar limits the purchasing power of U.S. companies in the global marketplace and surging oil prices inflate the weight of petroleum imports in the overall trade data.
Petroleum imports, including crude oil, surged 18%, while non-petroleum imports ticked up only 2.9%.
By stripping out the effect of oil, the picture looks better, Lee said.
The non-petroleum trade deficit actually narrowed to $16.9 billion in March from $20 billion in February.