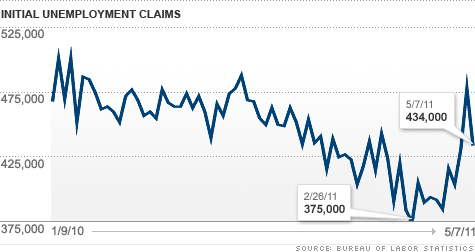 NEW YORK (CNNMoney) -- Initial unemployment claims dropped last week, following a wild swing upward the week before.
In the week ending May 7, 434,000 Americans filed for their first week of unemployment benefits, the Labor Department said Thursday.
That marked a major decline from the 478,000 initial claims filed the week before, when one-time adjustments related to schools on spring break severely distorted the number.
But the weekly data still came in higher than the 423,000 level economists were expecting.
"Some of this could be due to the Easter holiday, some of this could be due to severe weather, and there's definitely a small percentage that's due to temporary auto layoffs due to supply issues," said Brett Ryan, associate U.S. economist at Deutsche Bank.
Tornadoes in Alabama and flooding in the South could effect the numbers for a few weeks, Ryan said, but after these one-time blips subside, he expects initial claims to resume their downward trend.
Severe weather can often cause a temporary rise in initial claims, if businesses close and employees are unable to work. Severe weather can also mean local unemployment offices may close, causing a backup in claims that need to be processed.
The number of Americans filing for ongoing claims rose 5,000 to 3,756,000 in the week ended April 30, the latest data available.
Are you under-employed? Do you have a job, but still have a hard time paying the bills? Send your story, name and contact information to realstories@cnnmoney.com, and you could be featured in a story on CNNMoney.