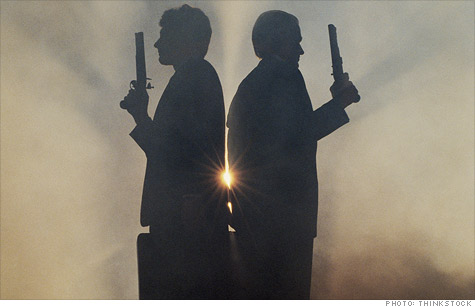 Dueling giants: Facebook hired a PR firm to spread anti-Google e-mails about 'violations of user privacy.'
NEW YORK (CNNMoney) -- "Google quietly launches sweeping violation of user privacy!" screamed the all-caps headline of an e-mail that popped into journalists' and bloggers' inboxes last week.
The e-mails were meant to whip media outlets into a frenzy -- but the effort backfired when journalists found out that that the anti-Google campaign, conducted by PR giant Burson-Marsteller, was paid for by Facebook.
Welcome to a new level skullduggery in the growing war between Facebook and Google.
At stake is one of the most valuable data sets in existence: The social graph. It's a map of the connections between you and everyone you interact with. Facebook has it. Google has pieces of it, and wants more. That puts the two companies on a collision course.
Stealth war: Last week, Burson began to circulate e-mails alleging that Google is using a little-known Gmail feature called Social Circles "to scrape and mine social sites from around the web ... and share that information" without users' knowledge or consent.
The campaign started to unravel on May 3, when Burson pitched the idea to influential privacy blogger Christopher Soghoian.
In its e-mail to Soghoian, the firm offered to "assist in the drafting" of an op-ed piece and pitch the article to media outlets including the Washington Post, Politico, and the Huffington Post.
Soghoian replied: "Who is paying [you] for this?" The Burson rep wouldn't disclose who had hired the firm, and Soghoian promptly posted the e-mail exchange online.
Three days later, USA Today posted an article about Burson's "whisper campaign" for "an unnamed client." The article also noted that two ex-journalists -- former CNBC tech reporter Jim Goldman and former political columnist John Mercurio -- were leading the Burson campaign.
On Thursday, The Daily Beast's Dan Lyons broke the story that Facebook is the Burson mystery client behind what he called a "clumsy smear."
Facebook's mea culpa: A Facebook rep told CNNMoney via e-mail that "no 'smear' campaign was authorized or intended."
Facebook merely "wanted third parties to verify that people did not approve" of Google's using their personal data -- including Facebook data -- in Social Circles, the rep said.
Facebook admitted that it had hired Burson "to focus attention on this issue," and the company said it now realizes it should have handled the situation "in a serious and transparent way."
Burson quickly flung itself on the sword -- while also twisting the knife a bit on Facebook. Burson said it should not have agreed to keep its client's identity a secret.
"Whatever the rationale, this was not at all standard operating procedure and is against our policies, and the assignment on those terms should have been declined," spokesman Paul Cordasco said.
Google (GOOG, Fortune 500) did not immediately respond to requests for comment.
A growing battle: Google likes to downplay the idea that Facebook is a threat. At the World Economic Forum in January, then-CEO Eric Schmidt insisted that Microsoft (MSFT, Fortune 500), not Facebook, is Google's real concern: "Facebook's ads business does not displace our advertising. I'm somewhat perplexed by the obsession, because I don't think the facts support it."
But for a company whose stated mission is to "organize the world's information and make it universally accessible," Facebook's massive data trove on personal relationships makes it a clear competitor.
And one it plans to challenge head-on. Sources close to Google say the company is developing a direct Facebook competitor, a stealth project engineers jokingly refer to as "Googbook."
Google has experimented with many social-networking tools. Some, like last year's infamous Buzz, backfired and were scrapped. Others have emerged as "social layers" atop other products. Its newest venture -- the one Facebook attacked -- tracks the "paths" that connect Gmail users through outside networks like Twitter and LinkedIn.
New CEO Larry Page is clearly committed to stepping up Google's social game. An all-staff memo sent out last month, first reported by Business Insider, puts employees on notice that a chunk of their annual bonus this year will be tied to how well Google does this year at executing on its social strategy.
Google's employees are taking note. And so, clearly, is Facebook.
-CNNMoney staff writer David Goldman and CNN's Amanda Hobor contributed to this report.