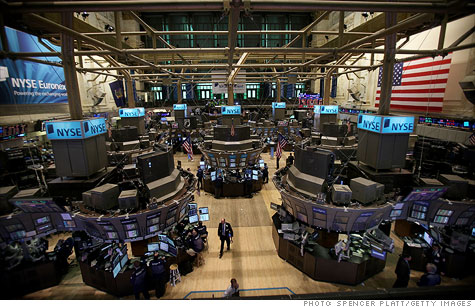 Nasdaq and ICE dropped their $11.3 billion bid for the NYSE.
NEW YORK (CNNMoney) -- The Nasdaq OMX Group and the IntercontinentalExchange withdrew their offer to buy NYSE Euronext on Monday after the federal government threatened to file an antitrust lawsuit to block the deal.
Nasdaq (NDAQ) and ICE (ICE) have been trying to gain favor with the NYSE board for their $11.3 billion offer since April, most recently taking it directly to the NYSE shareholders.
"We made the decision to withdraw our offer when it became clear that we would not be successful in securing regulatory approval for our proposal despite offering a variety of substantial remedies, including the sale of the NYSE SRO and related businesses," Nasdaq CEO Bob Greifield said in a statement.
The U.S. Justice Department said the deal would have been bad for exchange customers. Attorneys had planned to file paperwork in federal court Monday morning to block the merger.
"Allowing these two companies to merge would have given them virtually 100% of the market," said Christine Varney, head of the Justice Department's antitrust division.
The bidders had struggled with the merger from the moment it was proposed. The NYSE had twice rejected proposals by the rival exchanges, reiterating its plans to merge with Germany's Deutsche Boerse.
The NYSE wasn't interested even after after Nasdaq and ICE sweetened the offer with a $350 million "reverse termination fee."
"As we have consistently maintained, the combination with Deutsche Boerse creates the world's premier exchange group," said NYSE Chief Duncan Niederauer, in a statement.
The fact that the NYSE didn't even seem to want to consider the rival offer angered some NYSE shareholders. In fact, several of them bombarded the exchange's executives at the NYSE's annual shareholder meeting in April with questions about the rejected bid.
But the deal wouldn't have been viable anyway, according to antitrust lawyer Matt Cantor, partner with the firm Constantine Cannon.
"Clearly, this would have led to a monopoly in the United States," he said. "The prices of listing on exchanges would increase substantially if this transaction went forward."
Shares of NYSE Euronext (NYX, Fortune 500) plunged 14% Monday, while Nasdaq's stock edged down 2.5% and ICE jumped more than 3%.
If the deal had gone through, it would have been the latest in an international wave of exchange mergers.
As it has all along, NYSE moving ahead with its $10 billion merger with Germany's Deutsche Boerse, which would create the world's largest exchange for stocks and derivatives.
Earlier this year, the London Stock Exchange announced a merger with Canada's TMX Group, the owner of the Toronto Stock Exchange. Also this year, a pair of Russian exchanges, MICEX AND RTS, merged. Late last year, Singapore offered to buy the Australian Securities Exchange for $7.8 billion.
-- Senior writer Jennifer Liberto contributed to this report.