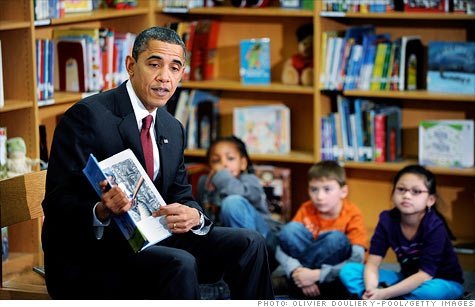 President Obama will donate the $134,000 advance and other proceeds from his 2010 children's book "Of Thee I Sing."
WASHINGTON (CNNMoney) -- A big portion of President Obama's wealth is invested in federal debt, according to a financial disclosure form released Monday.
The president and First Lady Michelle Obama had assets valued between $2.8 million and $11.8 million in 2010.
And between $2 million and $10 million of their assets are invested in super-safe U.S. Treasury securities, according to the disclosure form. That's up from $1.5 million to $6 million reported invested in Treasury notes and bills in 2009.
The report uses broad financial ranges, making a more precise accounting impossible.
The president and First Lady reported no debts.
They also have between $350,000 and $800,000 invested in IRAs and other retirement funds, according to the form.
And the couple has between $200,000 and $500,000 squirreled away in 529 college savings plans for their daughters Malia and Sasha. That's up considerably since the president took office. In 2008, the Obamas reported between $50,000 and $100,000 in such savings.
Much of the Obamas' wealth comes from President Obama's best-selling books "Dreams from my Father" and "Audacity of Hope."
Last year, the Obamas earned at least $1.1 million in royalties from books. On their 2010 tax returns, they reported an adjusted gross income of $1,728,096.
But their book royalties have dropped from 2009, when they raked in more than $5 million in royalties.
The president's children's book, "Of Thee I Sing," published last November, earned him a $134,000 advance. He is donating that money and all proceeds from the book to the nonprofit Fisher House Foundation for a scholarship for children of fallen and disabled soldiers.
Obama's annual salary as president in 2010 was $395,188.
Michelle Obama received $10,000 from a trust called the Henry G. Freeman Jr. Pin Money Fund set up for first ladies, who don't draw a salary. The fund was set up in 1917 to augment presidential salaries.