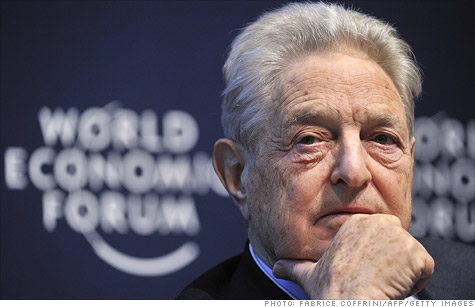 Hedge fund pioneer George Soros is known for his bold bets in the currency market.
NEW YORK (CNNMoney) -- Billionaire hedge fund manager George Soros sold nearly $800 million of gold during the first quarter, as the precious metal surged to record highs.
The investments in gold and mining companies made up about 10% of Soros Fund Management's $8.4 billion portfolio.
Gold prices have risen sharply this year amid a broad rally in the commodities market. But the metal has come under pressure after earlier this month rising to $1,557.40 an ounce, its highest level ever in non-inflation adjusted terms.
Soros Fund Management now owns only about 49,400 shares of SPDR Gold Trust (GLD), worth $6.9 million, according to a filing with the Securities and Exchange Commission.
The SPDR Gold Trust is one of the most widely held gold-backed exchange traded funds. Soros's position in December was worth $655 million, when the fund owned 4.7 million shares of the ETF.
Soros also dumped 5 million shares of iShares Gold Trust (IAU), worth $69 million, as well as shares of gold miners Kinross Gold Corp. (KGC) and Novagold Resources (NG). At the same time, he added to his Barrick Gold (ABX) holdings and bought some shares of Freeport Mcmoran Copper and Gold (FCX, Fortune 500).
In total, Soros had just under $1 billion in gold ETFs and related stocks at the end of December. After selling off his various holdings, that stake is now a mere $216 million.
The hedge fund manager is best known for his bold bets in the currency market, including a 1992 trade against the British pound that won him an estimated $1 billion.
Soros Fund Management spokesman Michael Vachon said the fund does not comment on its investments.
Meanwhile, John Paulson, another influential hedge fund manager, is still betting on gold.
Paulson & Co. held onto its $4.4 billion stake in the gold ETF in the first quarter, according to regulatory filings. The fund also bougth more shares of mining companies such as Barrick Gold Corp. (ABX) and Gold Fields, Ltd. (GFI)
Paulson, who made billions betting against the housing market, launched a fund early last year to invest up to $250 million in shares of gold miners and make other investments related to the precious yellow metal.