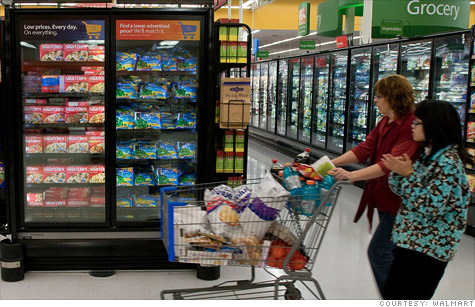 Wal-Mart said higher gas and food prices are continuing to eat away at the paychecks of its low-income shoppers.
NEW YORK (CNNMoney) -- Wal-Mart reported better-than-expected quarterly profit and revenue Tuesday, although its U.S. store sales continued to decline as higher gas, energy and food prices ate away at its customers' paychecks.
"Our core U.S. customers are stretched. They are concerned about rising gas, food prices and employment issues," Wal-Mart CEO Mike Duke said in pre-recorded call discussing the company's first-quarter results.
Wal-Mart (WMT, Fortune 500), the world's largest retailer, reported earnings of 97 cents per share -- excluding a one-cent benefit for currency translation -- and revenue of $103.4 billion for the first fiscal quarter ended April 30.
That was better than analysts' forecasts of 95 cents a share and revenue of $102.9 billion, according to Thomson One Analytics.
However, on another key measure of its performance known as same-store sales, Wal-Mart's U.S. stores suffered a 1.1% decline in the quarter.
Same-store sales measure sales at stores open at least a year.
This marked the eight consecutive quarter of declining same-store sales for Wal-Mart's U.S. stores.
"We recognize that we have work to do in growing our comparable sales," said Duke. "This is of the greatest priority for me."
Wal-Mart's sales slump also dragged down the retailer's overall U.S. same-store sales, which include store sales at its Wal-Mart and Sam's Club locations, by 0.3% in the quarter
However, Sam's Club-only store sales rose 4.2% in the period.
Last month, Duke told an industry gathering that Wal-Mart's core shoppers are running out of money much faster than a year ago due to rising gasoline prices, and that the retailer is worried.
Wal-Mart shoppers, many of whom live paycheck to paycheck, typically shop in bulk at the beginning of the month when their paychecks come in.
Lately, they're "running out of money" at a faster clip, he said.
Wal-Mart, which averages 140 million shoppers weekly to its stores in the United States, is considered a barometer of the health of the consumer and the economy. To that end, Duke said he's not seeing signs of a recovery yet.
As their budgets get more stretched, Wal-Mart shoppers are also changing their buying habits, picking up more groceries and household goods -- such as detergent and paper towels -- while cutting back on non-essential items such as clothing and home furnishings.
Recognizing these shifts in buying patterns, Wal-Mart recently announced it was adding more groceries and household goods to its shelves and getting even more aggressive on prices in order to capture more of its customers' dollars in every shopping trip.
Still, Wal-Mart doesn't expect these efforts to bear fruits immediately.
Looking ahead, Wal-Mart expects same-store sales in the second quarter to be down 1% to up 1%.
"We are monitoring the economic environment carefully, as significant changes in gas prices and inflation during the quarter will influence our actual performance," Bill Simon, CEO of Wal-Mart U.S., said in a statement.
Losing shoppers? Wal-Mart blamed declining U.S. store sales on falling store traffic in the quarter, even though the amount of money that shoppers spent per trip was up versus a year ago.
Falling traffic could become a serious problem for Wal-Mart, according to a new joint report from industry research firm America's Research Group and UBS Research.
The report, based on a survey of 1,000 consumers conducted in early May, said 13.9% are shopping there less frequently, while 68% of shoppers who typically visit Wal-Mart stores said they're also shopping at stores that sell merchandise for a dollar.
While Wal-Mart is still a top pick for grocery purchases, the report said the discounter is losing shoppers in non-consumable categories such as children's clothing, adult clothing, shoes and video games.
The survey also showed that while most who shop Wal-Mart still see it as offering the lowest prices, 17% said that this is only "sometimes" the case.
"This tells us that even though Wal-Mart says their prices are the lowest, it's still an ongoing battle," the report said.
"Wal-Mart is going to struggle for the next 18 months or longer as consumers find less expensive places to go such as dollar stores or supermarkets," said America's Retail Group founder and retail analyst Britt Beemer.
--CNNMoney staff writer Aaron Smith contributed to this report.