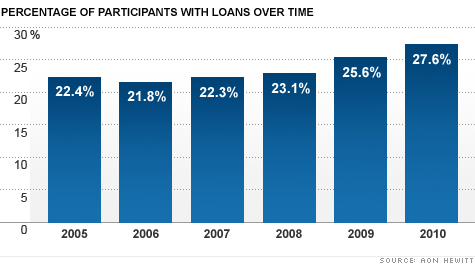 WASHINGTON (CNNMoney) -- Congress wants to make it tougher for workers to tap their 401(k) retirement funds -- and to make it easier for them to repay those loans when they do.
Sen. Herb Kohl, a Wisconsin Democrat and Sen. Mike Enzi, a Wyoming Republican filed the bill Wednesday with an eye toward protecting 401(k)s, a critical means of saving for retirement for millions of Americans.
In 2010, nearly 28% of those with 401(k)s had loans outstanding on them, a record high, according to a recent study by Aon Hewitt, a consulting firm owned by Aon Corp (AON, Fortune 500). The average loan was $7,860.
"While having access to a loan in an emergency is an important feature for many participants, a 401(k) savings account should not be used as a piggy bank," Kohl said in a statement.
The bill would limit workers to taking out no more than three loans from their retirement funds. Currently, employers decide how many loans workers can take.
It would also ban the use of 401(k) debit cards, which, while uncommon, make it much too easy to raid retirement funds, said Kohl's spokesman Joe Bonfiglio.
It would also allow employees with outstanding 401(k) loans more time to repay their loans without facing penalties. Most employees face steep tax penalties, including income tax and other penalties, if they don't pay back their 401(k) loans within two months of leaving a job.
The penalties are there to discourage employees from raiding retirement funds in the first place. But the penalties also make it hard for recently laid off workers to get back on their feet, Bonfiglio said.
"Paying back a loan after just losing your job can be difficult, so our bill would give people more time to pay themselves back," Kohl said.
The bill would allow employees more time to repay the 401(k) loans penalty free, by giving them the option to repay their loan into an IRA by April 15th of the following year.
Those who are unemployed with 401(k) loans outstanding could also continue making voluntary contributions into their 401(k) plan for six months after they lose their job.