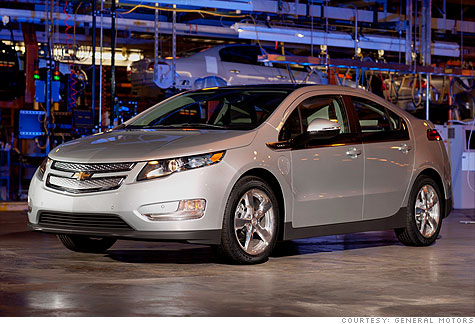 GM is temporarily the factory where the Chevrolet Volt is built as it prepares for larger production volumes.
NEW YORK (CNNMoney) -- General Motors is preparing to greatly increase production of the Chevrolet Volt as it prepares to begin selling the Detroit-made plug-in hybrid across the United States as well as in China and Europe.
Up to now, the Volt has been available only in California, New York, Connecticut, New Jersey and Texas, Michigan and the Washington D.C. area. GM (GM, Fortune 500) announced in January that the car would be available in all 50 states by the end of 2011, earlier than originally planned.
But, in the near term, U.S. customers who want to buy a Volt may be out of luck. GM is shutting down the Detroit-Hamtramck factory that makes the car for four weeks as it installs new machinery to prepare for faster production.
"Coupled with already low dealer inventories and strong demand, the suspension of production will result in limited availability and reduced sales in June and July," GM said in an announcement.
In Europe, the Volt will be sold under both the Chevrolet Volt name and as the Opel Ampera. The Opel version will have different body styling.
Volt sales have so far been limited by GM's ability to produce the cars. The automaker has been selling around 500 a month since production began in November. Production capacity will increase to 16,000 units a year, including exports, following the upgrades. In 2012, GM said, production capacity is expected to rise to 60,000 vehicles globally with an estimated 45,000 going to the United States.
The Volt is an electrically driven plug-in car that uses a gasoline engine to generate power for driving farther than about 35 miles. The car has won numerous awards in the United States, including Motor Trend Car of the Year and North American Car of The Year.