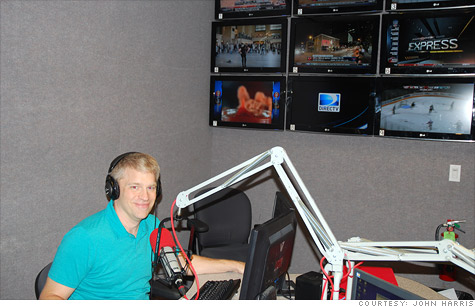 John Harris landed his dream job - but it meant moving to a new city and working the graveyard shift.
NEW YORK (CNNMoney) -- Landing the job of your dreams is possible -- if you're willing to make some sacrifices.
John Harris, 39, was a calculus teacher and football coach in Jacksonville, Fla. with a passion for sports but uncertainty about his career path.

"I loved my job teaching and coaching but I was conflicted. I thought, 'I went to an Ivy League school, I should be making lots of money,'" the Brown University graduate said.
Harris went back to school for a Master's in tax and went to work as an accountant at Ernst & Young in Raleigh, N.C. But he still wasn't fulfilled.

"I knew within the first month I was in the wrong place," he said. "I kept looking for something that would satisfy me."
When Harris was invited to come on a local radio station to discuss college football, he says he finally found his calling. He worked his way up to hosting an afternoon show at the station and quit his accounting job after just six years. "Five years and 11 months too late," he said.
In April, Harris was offered a job hosting a national sports show out of Houston and his wife agreed to move with their two young children. "I changed my entire life," he says of accepting the opportunity.
Harris says switching careers on the heels of the recession came with a lot of worry. But ultimately, he could not pass it up.
"I was always completely in sports. I wasn't in the math club, I didn't play an instrument, it was sports 24/7. To be able to do this for a living is a dream come true."
Another problem: Harris' show, "Overnight Takeover," is live from 2 a.m. to 6 a.m. on XM and Sirius Satellite Radio. Harris says it's worth it even though his family is still adjusting to the new schedule.
"I was willing to sacrifice and my family was willing too."
Now he leaves for work in the evenings and preps for his show until 2. He covers everything from hockey to Nascar and afterwards he heads home to help his kids get up in the morning and drives them to school. Then he goes to sleep and is up in time to pick them up from school at the end of the day.
Landing a dream job -- or any job -- in today's job market requires some sacrifices, says Barbara Safani, career expert and author of Happy About My Resume.
"Anybody considering a career change should be prepared to make certain sacrifices. Sometimes it's salary, sometimes it's geography and sometimes it's the hours," she said. "The people that have that flexibility land faster."
"[Harris] is getting his foot in the door, whether it's at 2 a.m. or 10 a.m., it's a way for him to begin to make his mark," Safani said.
Harris says he would eventually like to host a daytime show but he has already forged a tight bond with his listeners and is happy with his current spot.
"I want to stay in this role for as long as they'll have me."