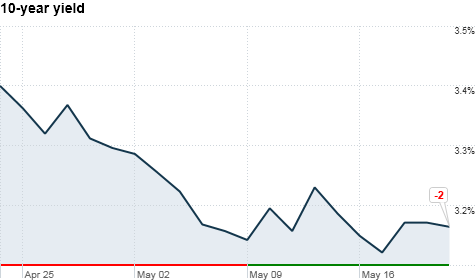 Click chart for more bonds data.
NEW YORK (CNNMoney) -- Treasury prices were little changed Friday, as investors sat on their hands ahead of a barrage of economic data coming next week.
The data dump will start Tuesday with a report on new home sales, and will be followed later in the week by data on initial unemployment claims, durable goods, GDP, personal income and spending, inflation and pending home sales.
And the Treasury Department will hold highly anticipated auctions of U.S. debt, starting with $35 billion in 2-year notes on Tuesday, $35 billion of 5-year notes on Wednesday and closing with $29 billion of 7-year notes on Thursday. (Treasury prices and yields)
"Today it is likely to be a quiet one," Kevin Giddis, executive managing director at Morgan Keegan, wrote in a note to clients. "There are no economic numbers to be released and most traders seem to be comfortable sitting on the sidelines waiting for next week's supply."
Of course, bond traders have no shortage of big picture issues to contemplate if they find themselves with a little extra time to think on Friday.
Those include the end of QE2, the Greek debt crisis, the debt ceiling, inflation, a weak housing market and persistent unemployment. And that's just the short list.
The biggest worry outside American shores is Greece's debt problem. It simply refuses to go away. Early Friday, Fitch downgraded the country's credit rating by three notches.
According to Bill Larkin, portfolio manager at Cabot Money Management, that crisis has reached a tipping point, and needs to be resolved.
"It's one of these things where the beast has to be tamed," Larkin said. "I don't know how they are going to do it, but there are going to be winners and losers."
In the United States, investors are looking to Washington for signs of progress in negotiations to raise the debt ceiling. But with the deadline months away, traders aren't hitting the panic button.
"The debt ceiling 'issue' will begin to be bigger item as we approach the summer months and I continue to believe that even in my wildest dreams," Giddis said. "I cannot imagine that we will see anything but an increase in the debt-ceiling."
If you're looking for a silver lining of sorts, Giddis writes that investors are encouraged by the likely continuation of low interest rates by the Fed. The reasons for the rates, however, suggest the cloud won't be lifting anytime soon.
"You don't have to look any further than continued weak housing, limited job growth, slowing momentum, uncertain regulatory environment, a divided Congress and an inefficacious tax structure that limits business incentive," Giddis wrote.