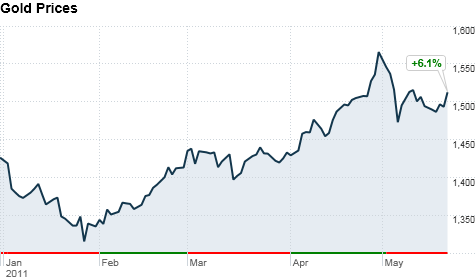 While gold prices have backed off earlier highs, the precious metal is still trading at near-record levels. Click the chart for more commodities-related data.
NEW YORK (CNNMoney) -- China edged out India to become the world's largest buyer of investment-grade gold products, according to a World Gold Council report.
In the first quarter, Chinese consumers purchased 90.9 metric tonnes in gold bars and coins, valued at $4.1 billion.
That's more than double the amount Chinese consumers were buying year ago. It's also more than the 85.9 metric tonnes bought by Indian consumers during the first three months of the year.
"Persistent high inflation levels in [both countries] continued to motivate investment in gold," the organization's analysts wrote in a research report.
India still dominates the gold jewelry market, buying 206.2 metric tonnes in the first quarter, compared with China's 142.9 metric tonnes.
China and India account for nearly half of all gold products sold during the first quarter, said the World Gold Council.
"You have a growing middle class that has increasing disposable income that is also concerned about upward inflation pressures," said Carlos Sanchez, a precious metals analyst with independent metals research firm CPM Group.
Sanchez expects China's market to continue to grow noticeably for the foreseeable future as the country's economy expands.
Also, because China is the world's largest gold producer, according to CPM, the country doesn't need to import as much as India, which only produces a fraction of what China does.
In large markets outside of China and India, physical gold demand remained mostly strong. U.S. physical gold demand rose 15% from a year ago, as strong demand for investment-grade gold products offset a 10% decline in sales of gold jewelry.
Demand for bars and coins in Germany, Switzerland and France more than doubled compared from a year ago. However all those markets are a fractionally the size of India and China. Italy and the U.K. saw gold demand fall in the same period.
Like several other commodities, gold prices have risen noticeably so far this year as investors worldwide have sought out investment alternatives from traditional stocks and bonds. Gold futures for delivery in June jumped $21.30, or 1.4% on Friday, to $1,513.60 an ounce.
Not everyone is bullish. Just this week, billionaire hedge fund manager George Soros disclosed this week that he had sold his $800 million gold stake during the quarter.