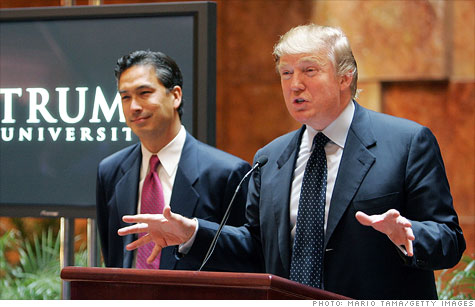 Donald Trump speaks at the debut of Trump University in 2005, as president Michael Sexton looks on.
NEW YORK (CNNMoney) -- The company formerly known as Trump University is one of several for-profit schools under investigation by the New York Attorney General, a Trump spokesman confirmed Friday.
George Sorial, managing director of The Trump Organization, said the group has received an inquiry from the state of New York and is planning to provide the information requested.
"We are aware that for-profit education institutions have become the subject of nationwide scrutiny," Sorial said in a statement.
A spokesman for Eric Schneiderman, the New York Attorney General, did not immediately respond to calls requesting comment. (Trump: I'm worth whatever I feel)
But a report in the New York Times said the inquiry is part of a broader investigation into the for-profit education industry that was prompted by about a dozen complaints from former students.
Trump University became the Trump Entrepreneur Initiative last year after the New York State Education Department said the company cannot use the term "university" without its consent.
Bridgepoint Education (BPI) and Corinthian Colleges (COCO), two other for-profit schools, both confirmed Friday that they have received inquires from the state and plan to cooperate with the investigation.
Trump University is already being sued by a group of former students in California who say the school mislead them into spending thousands of dollars on workshops and "mentorships."
In a class-action suit filed late last year, the former students say Trump University is "like an infomercial" that lures customers with the Trump name but fails to deliver on its promises of success in real estate.
"The primary lesson Trump University teaches its students is how to spend more money buying more Trump seminars," according to the complaint.
The Trump school offers courses in real estate, asset management, entrepreneurship and wealth creation. The courses range in price from $1,495 for a 3-day workshop to $34,995 for a "full education."
Unlike other for-profit schools, Trump's outfit relies heavily on the brand of its namesake, the billionaire real estate mogul and erstwhile presidential candidate, Donald Trump.
"At Trump University we teach success," Trump said in a promotional video. "That's what it's all about: success. It's going to happen to you."
Trump made his money by investing in New York real estate, casinos and golf courses around the world. But he is perhaps best known in popular culture for his long-running reality television show, "The Apprentice."
More recently, Trump made headlines for suggesting that President Obama is not a U.S. citizen, part of a presidential bid that he officially squashed earlier this month.
The Donald, as Trump is known, has attempted to capitalize on his brand recognition by attaching his name to just about everything he can, including bottled water, neck ties and chocolate bars.