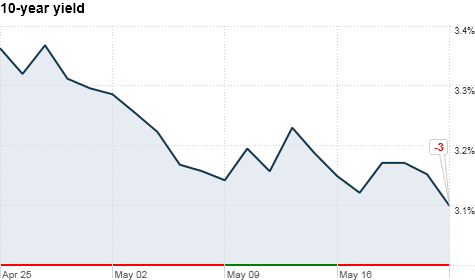 Click chart for more bonds data.
NEW YORK (CNNMoney) -- Worries over Europe's sovereign debt crisis returned to the Treasury market with a vengeance Monday, sending prices higher as investors sought the familiar safety of U.S. government debt.
The crisis, which has persisted for months despite attempts by European countries to stem the tide, was put back in focus over the weekend by some saber rattling on the part of rating agencies.
On Friday, rating agency Fitch cut Greece's credit rating by three notches to "highly speculative," putting it in junk bond territory.
In addition, Standard & Poor's slashed Italy's outlook to 'negative' from 'stable.'
Investors are worried that the massive amounts of debt carried by European countries -- including Ireland, Portugal, Greece and Spain -- will cripple their economies, and spread across the eurozone.
"This is the crisis that just won't go away," said David Coard, director of fixed income sales and trading at The Williams Capital Group.
The impact doesn't stop at the Atlantic's edge, as investors rush to buy safe-haven U.S. Treasuries, sending prices higher while yields drop.
On Monday, the benchmark 10-year note dropped to 3.13% after closing at 3.15% on Friday.
A year on, the crisis in Europe shows no real signs of letting up. And the actions taken by European governments to dampen its effect are not calming markets.
Investors continue to demand higher and higher yields in return for holding eurozone debt. Greek, Irish and Portuguese spreads continue to rise vs. the German bund, a sign that investors aren't convinced the various austerity measures and bailouts undertaken have made much of a difference.
In Spain, one of the region's largest economies, the 10-year bond yield has jumped from 5.21% to 5.48% in just the past 10 days.
Politics is now complicating matters on the Iberian Peninsula. Spain's socialist ruling party was hit with its worst election defeat in years over the weekend, as citizens continued to protest the weak economy and high unemployment.
"According to Spain, austerity is 'overrated' and they seem to think that they can elect local officials who won't support a budget cutting, belt-tightening program in an effort to avert default," Kevin Giddis, managing director of fixed income at Morgan Keegan, wrote in a research note.
All the worry means investors are now searching out safe-haven assets. Much of that attention is directed at U.S. Treasuries, and the Swiss franc rose to its highest-ever level against the euro in trading Monday, another example of the phenomenon.
What yields are doing: The 30-year yield ticked down to 4.27%, the 2-year yield rose to 0.53%, and the 5-year yield slipped to 1.78%.
The 10-year note's yield closed at 3.13%, down from 3.15% late Friday.