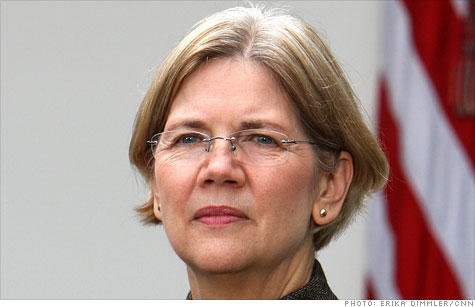 White House adviser Elizabeth Warren will defend the Consumer Financial Protection Bureau from Republican critics in a House hearing Tuesday.
WASHINGTON (CNNMoney) -- White House adviser Elizabeth Warren returns to Capitol Hill on Tuesday to defend the new Consumer Financial Protection Bureau against Republicans who want to curb and control the agency's powers.
In a House Oversight subcommittee hearing that's being held to attack oversight of the bureau, Warren will focus on highlighting the need for the bureau, detailing all the different checks and balances on it, according to prepared testimony released Monday.
"Failures of our regulatory system were an important contributor to the country's worst financial disaster since the Great Depression," Warren said in her statement. "As Congress recognized in creating the CFPB, every market needs rules."
The Consumer Financial Protection Bureau was created as a part of last year's Dodd-Frank Act, which Congress passed to rewrite the financial rules of the road to prevent the next financial crisis.
The bureau's primary duty is to oversee financial products -- such as mortgages and credit cards -- and ensure they're clear, understandable and don't obscure hidden fees that consumers can't figure out.
But ever since Republicans took over the House, they've been focused on curbing and reversing powers of the consumer bureau, saying the new federal agency has too much power and lacks oversight.
Republicans have taken particular aim at Warren, the Harvard University professor who came up with the idea for the bureau and is a top candidate to run that new agency. They don't like that the White House appointed her to create the new bureau in an advisory position, meaning Warren is doing all the work of creating the bureau without having to weather a Senate confirmation battle.
And some speculate the White House could appoint Warren to run the bureau through the end of 2012, when the Senate is in recess next week. That move would be in response to a Senate Republican threat to block any other nominations until a director is in place.
The Tuesday hearing will be Warren'ssecond appearance in front of a Republican-controlled panel. Warren is expected to play down the "overblown claims about the nature of the CFPB's power," according to the testimony.
"These claims disregard the limits on the consumer bureau's authorities and the very meaningful oversight that Congress imposed over its functioning -- oversight that is consistent with that which exists over other independent agencies," Warren said in her statement.
Earlier this month, a different House panel passed a bill to curb the bureau's powers by replacing the director with a five-member panel and to make it easier for other regulators to overturn new consumer bureau rules. While the bill will easily pass the House, the Senate is not expected to even consider it.