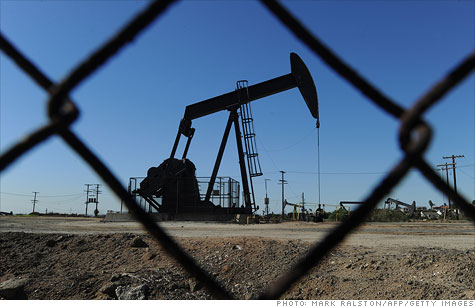 Click on photo to track oil prices
New YORK (CNNMoney) -- Federal regulators charged five oil speculators Tuesday with manipulating the price of crude and making a $50 million profit from the scheme.
The Commodity Futures Trading Commission alleges the speculators bought enormous amounts of actual crude oil for sale in Cushing, Okla, during the early months of 2008.
This created a perceived shortage of oil in Cushing -- a major point for oil delivery -- and drove the price of oil futures contracts higher.
The speculators then bet the price of oil would fall by selling so-called "short" contracts to other investors. When the speculators sold their actual oil holdings in Cushing en mass, the price of oil did fall, netting the group a hefty profit.
The alleged scheme took place between January and April 2008, a time when oil prices were gradually climbing toward their all-time record of $147 a barrel set in the summer of 2008.
The price of crude during the months of the alleged misdeeds changed very little, generally staying within a $10 range but the traders made their money off the daily fluctuations. Crude traded at $99 a barrel Jan. 2, 2008, and ended March 2008 at $101 a barrel.
The speculators charged in the suit are Parnon Energy Inc. of California, Arcadia Petroleum of the United Kingdom, Swiss-based Arcadia Energy, James T. Dyer of Australia and Nicholas J. Wildgoose of California.
None of the defendants nor the CFTC could immediately be reached for comment.
While the CFTC does periodically find isolated examples of speculator wrong doing, previous CFTC investigations have found no evidence that oil speculators are artificially driving up the price of oil over the long term.
That assertion is challenged by many, who say the lack of a physical shortage of oil in the current market combined with today's high prices can only mean one thing -- speculators are to blame.
The Obama administration, under pressure from the public over high gas prices, has recently launched an investigation into excessive speculation and oil price manipulation.
Such investigations are common any time oil prices spike.
But other experts say speculation is not to blame. Oil prices are high, they say, because worldwide use is rising sharply, the easy-to-get oil is running out, and no viable alternatives are in sight.