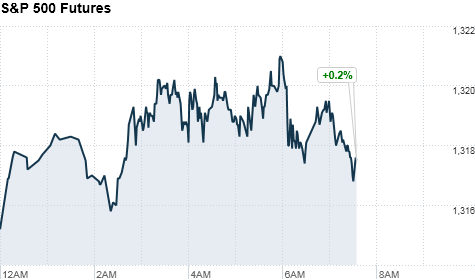 Click chart for more premarket action.
NEW YORK (CNNMoney) -- U.S. stocks were headed for modest gains Tuesday, looking to recoup losses after eurozone debt jitters sparked a global sell-off in the previous session.
Dow Jones industrial average (INDU), S&P 500 (SPX) and Nasdaq (COMP) futures were slightly higher ahead of the opening bell. Futures measure current index values against perceived future performance.
Stocks closed sharply lower Monday, as Europe's debt woes re-entered the spotlight and sent investors in search of safer assets such as Treasuries. Each of the three major stock indexes fell at least 1%.
"There's often a tendency to rebound after you see a sell-off like we did yesterday," said Bruce McCain, chief investment strategist of Key Private Bank. "But market participants are still a little bit on the nervous side, and now it seems like we're waiting with bated breath for the next big thing to happen."
May has sent stocks on a volatile downhill ride. The Dow and S&P 500 have both lost about 3.4%, and the Nasdaq has tumbled 4% since the beginning of the month.
"Between signs of slower growth in the United States and the re-emergence of sovereign debt problems, there's not a whole lot to drive enthusiasm right now," said McCain. "But as lower gas prices and energy prices begin to filter back into the economy, and as Japan comes back online with production, some of the things that have been depressing economic activity here will pick up again."
Economy: Traders will be looking for government data on April new home sales, due shortly after the opening bell.
Economists expect the report to show new homes slugged along at prior month's levels, with 300,000 units being sold in April. The housing market remains weak, even though a few recent indicators have started to suggest a gradual recovery.
"We've braced for the fact that new home sales are not doing well, so this report is probably not enough to torpedo the market one way or the other," said McCain. "But if the U.S. economy starts showing more signs of resilience, I'm not sure we would be worrying so much about sovereign debt problems."
Companies: Shares of doughnut maker Krispy Kreme (KKD) continued to gain Tuesday, rising 2% in premarket trading. On Monday, Krispy Kreme shares surged more than 20%, after the company posted better-than-expected earnings.
Shares of entertainment products maker Sony (SNE) rebounded, ticking up more than 4% before the opening bell. Shares slipped nearly 4% in the previous session following disappointing quarterly results due to the earthquake and tsunami in Japan.
World markets: After global markets sank in the previous session on concerns that eurozone debt woes will continue to spread, European stocks rebounded in Tuesday morning trading. Britain's FTSE 100 rose 0.4%, the DAX in Germany added 0.7% and France's CAC 40 was barely above breakeven.
Asian markets ended mixed. The Shanghai Composite edged lower 0.3%, while the Hang Seng in Hong Kong ticked up 0.1% and Japan's Nikkei rose 0.2%.
Currencies and commodities: The dollar was down against the euro, the Japanese yen and the British pound.
Oil for July delivery gained $1.20, or more than 1%, to $98.90 a barrel.
Gold futures for June delivery rose $6 to $1,521.40 an ounce.
Bonds: The price on the benchmark 10-year U.S. Treasury fell slightly, pushing the yield up to 3.14% from 3.13% late Monday.