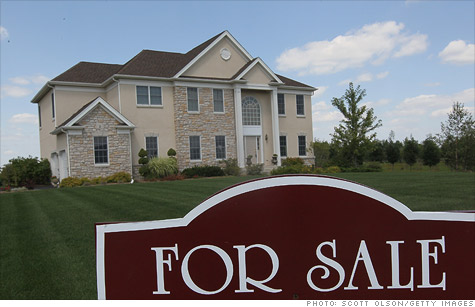 The supply of new homes for sale fell to the lowest level on record in April.
NEW YORK (CNNMoney) -- New-home sales rose for a second straight month in April, but sales remain near the lowest levels on record, the government said Tuesday.
The Census Bureau reported an annual sales rate of 323,000 new homes last month. That was up 7.3% from a revised rate of 301,000 in March.
Economists had forecast a sales rate of 300,000, according to consensus estimates from Briefing.com.
While sales have risen for two months in a row, the April rate was down 23.1% compared with the same month in 2010.
In February, new-home sales fell to a revised 278,000, marking the lowest level since the government began tracking the data in 1963.
"While sales are picking up, the overall level remains extremely depressed," said Mark Vitner, an economist at Wells Fargo.
New home sales peaked in July 2005, when the annual sales rate hit 1.4 million. But the housing market has been weak since a recession took hold in 2008.
While the job market has shown some signs of improvement this year, home builders have been reluctant to ram up production with unemployment still painfully high.
In addition, the market for new homes continues to face stiff competition from a glut of foreclosed properties that are more affordable.
Sales in April rose the most in the West, where the supply of foreclosed homes has been shrinking. But sales remain sluggish in economically challenged states in the Midwest and South.
The average price of homes sold in April was $268,900, according to the report. That was up from $250,000 in March, but down about 2.5% from the beginning of the year.
There were an estimated 175,000 new homes for sale. That's the lowest level on record, accordign to Vitner.
At the current sales rate, it would take 6.5 months to sell through that inventory, the report said.