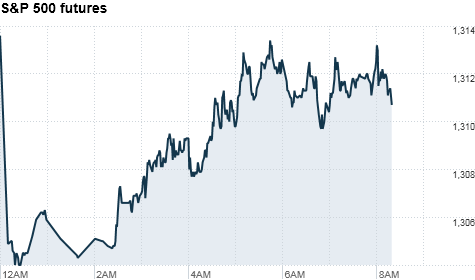 Click the chart for more premarket data.
NEW YORK (CNNMoney) -- U.S. stocks were set to open little changed Wednesday, as investors remain cautious amid a host of economic uncertainties.
Dow Jones industrial average (INDU), S&P 500 (SPX) and Nasdaq (COMP) futures edged lower ahead of the opening bell. Futures measure current index values against perceived future performance.
Stocks struggled to recover Tuesday but still ended in the red.
Investors are on edge as they face a series of headwinds that just don't seem to be going away: a slowing U.S. recovery, European debt problems, and the end of the Federal Reserve's bond-buying program.
"The fear factor is back in the market," said Peter Cardillo, chief market economist at Avalon Partners.
Cardillo said there are also seasonal factors at play. "May is certainly not a friendly month for the stock market."
The Dow and S&P 500 have both lost more than 3%, and the Nasdaq has tumbled 4% since the start of the month.
But stocks could soon find a floor, said Cardillo, who added that the major indexes are approaching key technical levels that could bring in more buyers.
Economy: New orders for long-lasting goods fell more than expected in April, the Commerce Department said. Durable goods orders fell 3.6% last month, versus a forecasted 2% decline.
French Finance Minister Christine Lagarde announced her bid to become head of the International Monetary Fund Wednesday.
Lagarde is the leading contender to replace Dominique Strauss-Kahn, who resigned last week in the wake of charges he tried to rape a hotel maid in New York. She would be the first female managing director of the IMF.
Companies: Shares of AIG (AIG, Fortune 500) fell 2%, after the insurance giant's long-awaited stock sale late Tuesday raised $8.7 billion, leaving the U.S. government with a tiny profit on the offering.
Applied Materials (AMAT, Fortune 500) reported strong quarterly results late Tuesday, but the semiconductor company issued a profit outlook for the current quarter that fell short of analysts' expectations. Shares were down 5% in premarket trading.
Shares of Russian search engine Yandex (YNDX) surged 52% to about $38 in premarket trading, a day after the company went public at $25 a share.
California Pizza Kitchen is being bought by Golden Gate Capital for $470 million, or $18.50 per share in cash. Shares of CPK (CPKI) rose 12% ahead of the opening bell.
World markets: European stocks were modestly lower. Britain's FTSE 100, the DAX in Germany and France's CAC 40 all fell about 0.1%.
Asian markets ended the session mixed. The Shanghai Composite rose 0.9% and the Hang Seng in Hong Kong was a hair higher, while Japan's Nikkei fell 0.6%.
Currencies and commodities: The dollar rose against the euro and the Japanese yen, but eased versus the British pound.
Oil for July delivery slipped 90 cents to $98.69 a barrel.
Gold futures for June delivery rose $2 to $1,525.40 an ounce.
Bonds: The price on the benchmark 10-year U.S. Treasury eased, pushing the yield up to 3.13% from 3.12% late Tuesday.