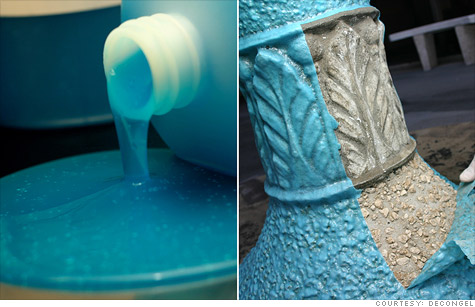 A lab accident sparked the discovery of this blue goo's ability to suck up dirt. The gel pours on and peels off.
(CNNMoney) -- Mopping up radioactive waste is messy work. Ever since an earthquake and a tsunami crippled Japanese nuclear power plants in March, cleanup crews have been struggling to decontaminate the area. Typically, this kind of work is performed with low-tech tools: soap, water, pads, brushes and old-fashioned elbow grease.
Enter Hawaiian entrepreneur Hank Wuh, who donated 100 five-gallon pails of his company's hazardous waste cleaner, DeconGel, to the cleanup effort. Japanese officials are using the cleaner on everything from concrete walkways and parking lots to schools and retail shops, both inside and outside of the exclusion zone.
DeconGel starts off as a liquid that can be brushed or sprayed onto contaminated surfaces. It dries to form a gel that encapsulates microscopic bits of radioactive or otherwise hazardous waste, including PCBs, beryllium, mercury and chromium. The gel can then be peeled off, rolled up and thrown away.
The discovery of DeconGel was accidental. Wuh is the CEO of a Skai Ventures, a Honolulu-based venture capital firm and technology accelerator. Late one night in 2006, the firm's researchers got a little sloppy with an experiment. They were working with a gel that dripped from the lab table onto the floor. When they peeled it off the next morning, the floor beneath was "absolutely pristine, completely clean and white," recalls Wuh. They tried to scrub the surrounding area to get it to match, but couldn't.
"That's when the wheels started to turn," Wuh says. "We knew we had something interesting there."
Years of research and development transformed that initial puddle of goo into DeconGel. In 2009, Wuh launched a company called CBI Polymers to market and sell the substance. So far, it's been used to scour everything from shipyards to meth labs to Hungarian villages that were inundated with toxic alkali sludge during an industrial accident last year. The company has attracted about 75 clients worldwide, including power plants, utilities, research facilities and hospitals. Customers also include the U.S. Department of Defense and the U.S. Department of Energy; the latter provided funding, testing and technical advice. CBI is now working to produce a family of related products with similar properties but different applications, including a graffiti-removal polymer, coatings to boost the anti-corrosive properties of paint, and a substance that helps restore the surfaces of historic buildings.
One gallon of DeconGel nuclear decontaminant sells for $160 and covers between 50 to 100 square feet. For about a year, starting in 2009, the National Energy Technology Laboratory in Albany, Ore., used DeconGel in a remediation project, cleaning lab benches, floors, tables, walls and equipment contaminated with beryllium from research work.
Although federal officials can't promote one product over another, DeconGel "was very effective" on metal and concrete, says Hector Rodriguez, a program manager for the lab. "We reduced the amount of waste water and waste material, and we weren't worrying about the gel becoming aerosolized or leaching."
DeconGel can't neutralize radioactivity -- that's the holy grail of cleanup -- but it can minimize disposal costs, which typically depend on the weight and noxiousness of the waste. Radioactive cleanup is traditionally performed with water, but contaminated water is heavy and hard to contain.
"Disposal will always be an issue, because we can't make waste disappear. We can only contain it and move it somewhere else," Wuh says. "But with the gel, you can fold it or roll it up. It reduces disposal amounts by 90%" compared to traditional remediation methods. And because the gel cocoons the contaminated particles, it reduces the amount of radiation that can leech back into the environment, making disposal less expensive.
Andre Gonzales, president of Foothills Environmental, a hazardous materials remediation company based in Golden, Colo., has been using DeconGel for more than a year. "It's absolutely an innovation over everything else out there," he says, "because it's so easy to apply and remove, and it lowers the risk of workers being exposed."
Japanese officials found DeconGel through Cham Dallas, a radiation mitigation expert who directs the University of Georgia's Institute for Health Management and Mass Destruction Defense. After the quake, Dallas flew to Japan to work on the massive cleanup. He convinced CBI Polymers to donate its product to the effort.
"I've been doing this for 20 years, and there's nothing comparable to DeconGel out there that I know of today," Dallas says.
Since the Japan earthquake, Wuh says, "The entire world is calling us. People want to be prepared, whether it's natural disasters or terrorism." He declined to disclose sales figures, but expects his company to be profitable by the end of this year. Business has doubled each year since 2008.
Wuh thinks demand for DeconGel will increase twenty-fold in the next few years. That may not be as crazy as it sounds: Although radiation accidents are rare, Dallas says awareness of the problem is growing.
"There have been more meetings on the federal level about radiation dispersals in the environment in the last two years than we have had in the last 20. In addition to aging reactors, we also have terrorist threats," he says. "Now with what happened in Japan, it's like the nuclear genie is out of the bottle."