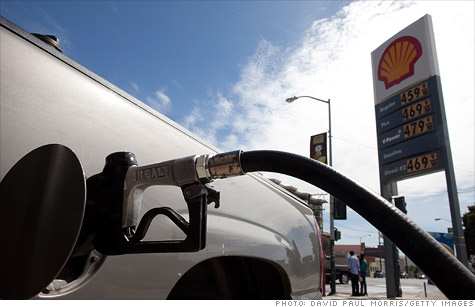 Gas prices are up sharply and Americans are curtailing vacations this Memorial Day.
NEW YORK (CNNMoney) -- The high price of gas is forcing many Americans to change their travel plans for the Memorial Day weekend, according to a survey released Friday.
A CNN/Opinion Research poll showed that one in four adult Americans have altered their plans for this weekend because of high gas prices, and more than half say they have changed their overall vacation plans.
Gas prices are now averaging $3.81 a gallon nationwide, according to a daily survey from motorist group AAA. That's up from $2.92 a gallon at this time last year.
Overall, a strong majority of Americans say they have made changes in their daily life as a result of high gas prices, with one third indicating that those changes have impacted their quality of life.
But the survey suggests that lower income households are feeling the most pain.
Among households that earn $50,000 a year or less, more than 40% said high gas prices have forced major changes in their life. By contrast, only 24% of households that earn more than $50,000 a year have changed their habits.
"Lower-income people and rural Americans are most likely to report major changes in their daily lives due to the price of gasoline," said Keating Holland, polling director at CNN.
While gas prices are typically more of a burden for drivers in rural areas, the recent spike in gas prices is almost as painful for drivers in big cities, according to the survey. In the survey, 42% of rural residents and 35% of urban dwellers say gas prices have forced changes in their daily lives.
The survey was conducted earlier this week, amid signs that the recent runup in gasoline prices has eased, and is based on interviews with over 1,000 adult Americans. The margin of error is between 3% and 6%.