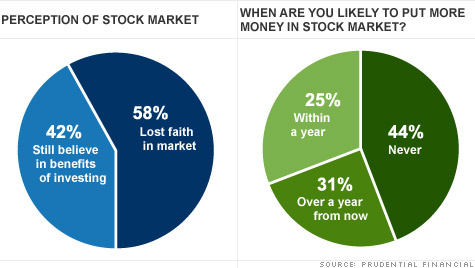 According to a survey of more than 1,000 Americans by Prudential Financial, many have grown increasingly distrustful of the stock market.
NEW YORK (CNNMoney) -- Want to know what the hot new trend in investing apparently is? Not investing.
Even though the S&P 500 (SPX) has more than doubled from its March 2009 bear market lows, many investors still don't trust the rally according to a survey from Prudential Financial.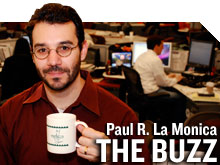 Prudential (PRU, Fortune 500), which polled more than 1,000 investors between the ages of 35 and 70 online earlier this year, found that 58% of those surveyed have lost faith in the stock market. Even more alarming, 44% said they plan to never invest in stocks. Ever.
Never is a long time. I realize that many investors are justifiably still smarting from the wounds they suffered after the 2000-2002 bear market and the worst of the Great Recession in 2008. I'm not happy with what happened to my 401(k) either!
But it's a really bad idea for anybody who's still relatively young and healthy to treat the market the way that Tony Soprano did his mother. "Stocks are dead to me!"
What are you going to do for the next 25 to 30 years if you're 40? Stick all the money in your IRA into Pimco Total Return (PTTDX)? If you have a kid, do you really want all the eggs in that 529 basket in a bond fund? Bill Gross may be good. But he's not THAT good.
"It's clear that the financial crisis has driven fundamental changes in the way Americans are saving for retirement, with millions of Americans perhaps at even greater risk of having insufficient income for a secure retirement," said Christine Marcks, president of Prudential Retirement, in a release about the firm's survey.
Yes, many investors are distrustful of Corporate America in general and Wall Street especially.
"The scarring is very deep and long lasting," said Liz Ann Sonders, chief investment strategist with Charles Schwab & Co in New York. "There's a view that the market is rigged and last year's Flash Crash did not help alleviate those concerns."
I get it. Massive bailouts of financial firms and automakers while many average American still struggle to pay their bills (or in some cases, find a job) don't sit well with people either.
But what's the solution? No companies should issue stock? That's silly. The only way that's proven to make decent amounts of money over the long haul (i.e. years and decades, not weeks and months) is to invest in stocks. Time, to quote Mick and Keith, is on your side. Yes, it is.
"Long-term, you need to have your money outpace taxes and inflation," said Larry Rosenthal, president of Financial Planning Services in Manassas, Va. "Fixed-income securities and cash in bank accounts are not going to do that. The only place you can do that is with equities."
Rosenthal said that investors need to resist the urge to focus on the next tick of the stock market. Slow down. Take it easy. Don't panic when a stock you own goes down over a week, or even a month.
Stocks are inherently risky. There's a chance that something you buy may go down. But it's foolish to completely shun the stock market even if you were burned in 2000 and 2008. The saying about fool me twice, shame on me shouldn't apply to your 401(k).
"It's like saying, 'Once I had a bad apple so I'm never going to buy an apple again,' " Rosenthal said. I assume he's referring to the fruit, not the tech stock (AAPL, Fortune 500).
Of course, you shouldn't put all your money into a small group of stocks, especially if they are all similar. Owning Coke (KO, Fortune 500) and Pepsi (PEP, Fortune 500) is not a diversified investing strategy.
But if you own a collection of individual domestic and international stocks, bonds, mutual funds, ETFs and yes, even a sprinkling of some commodities, you should do alright in the long run.
In other words, everything in moderation. And remember once again that next quarter is not the long run.
"This is similar to what happened in the 1930s. People who grew up during the Depression said they would not buy stocks again," said Ed Keon, portfolio manager with Quantitative Management Associates, a money management firm in Newark, N.J. that is a subsidiary of Prudential. "But even if you are nervous, you need assets that will grow."
Now is not the time to panic. Yes, the economy is still in lousy shape. I referred to the macroeconomic environment last year as the BBQ recovery. Low and slow. Sadly, that's still true. It's going to take a lot of time to work off the excesses of the boom that preceded the Great Recession.
Still, the stock market has recovered. Sonders said she understands that people look at how the economy is doing and refuse to believe that the market should be as high as it is now.
She said the only way for investors to truly regain trust in the markets is for stocks to go even higher and for the economy to improve with it. That's not going to happen overnight.
Sonders thinks that those who say they will "never" buy stocks may change their tune in a few years.
"Ultimately, this cadre of investors who say they will never buy again will get back in. This is a reaction to short-term factors," she said.
And guess what? The economy and market move in cycles. If you are 40 and invest in stocks now, you will likely see several more recessions and bear markets before you finally retire.
You can use that as an excuse to tuck money you'd otherwise use for stocks under your mattress. But it would be the wrong decision.
The opinions expressed in this commentary are solely those of Paul R. La Monica. Other than Time Warner, the parent of CNNMoney, and Abbott Laboratories, La Monica does not own positions in any individual stocks.