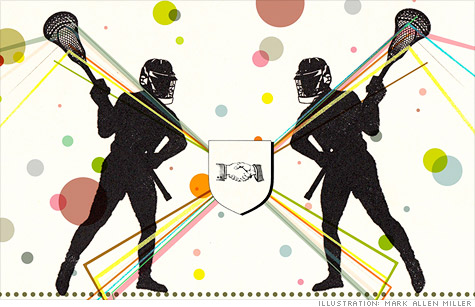 FORTUNE -- So you want a job at a top investment bank like Goldman Sachs (GS, Fortune 500), or consultancy like McKinsey, or law firm like Sullivan & Cromwell. In our meritocratic society, where CEOs can begin in the mailroom and Siliconillionaires have dropped out of college, the trick is to work hard and produce excellence, right? Not so. You're better off just attending Harvard and playing lacrosse, according to a recent curious study.
Confirming so many suspicions about Wall Street hiring, Lauren Rivera -- a 32-year-old sociologist who teaches management and organizations at Northwestern's Kellogg School of Management -- has concluded it's still where you went rather than what you did there that makes the difference. "Plus ça change, plus c'est la même chose," she fittingly wrote in the journal Research in Social Stratification and Mobility. "The means of educational credentialism have changed, but the ends remain the same."
She says "elite professional service employers" rely more on academic pedigree than any other factor. For recruiters, it's prestige that counts, rather than "content" like grades, courses, internships, or other actual performance. That's because if you got into a "super-elite" school -- which essentially means Harvard, Yale, Princeton, Wharton (University of Pennsylvania), and Stanford -- you must be smart. Plus, time spent at those bastions in turn will make you "polished" and attractive to corporate clients. It is, according to Rivera, a largely self-perpetuating hiring process that prizes efficiency: Why spend effort looking for "that one needle in the haystack" at a "safety school" like the University of Michigan or, heavens forfend, Bowling Green, when the run-of-the-mill Yalie's still a prince. Even "second-tier" Ivies like Brown, according to Rivera, are suspect for the top firms.
The most surprising finding in Rivera's research -- conducted through observation and anonymous interviewing -- was about the role of extracurriculars. While going to a super-elite gets your penny loafer in the door, that isn't enough. Rivera says it's leisure pursuits that seal the deal. Employers use these as "valid markers" or "proxies" of a candidate's "social and moral worth," all the more so for time-intensive sports that "resonate with white, upper-middle-class culture." Think lacrosse, squash, crew, and field hockey. Skip football, basketball, and soccer. And no sport at all suggests "nerd," which correlates to future "corporate drone."
Rivera, herself nicely credentialed with a BA from Yale and a doctorate from Harvard, is no ideologue. What she sought primarily to do is describe a hiring universe about which much is assumed but rarely analyzed. (Last year she published a study about "social selection" at a fancy Manhattan nightclub, even going undercover as a coat-check girl, the better to watch bouncers pick among the wannabes.)
Nonetheless, she isn't thrilled with what she learned. It may be that the best Wall Street firms are economic triumphs. But Rivera, as a sociologist, says hers is not to measure financial performance but social good. And she's pretty sure that extreme credentialism isn't fair. Given that perspective, if you're one of her students at Kellogg, would you be asking her to write you a recommendation?