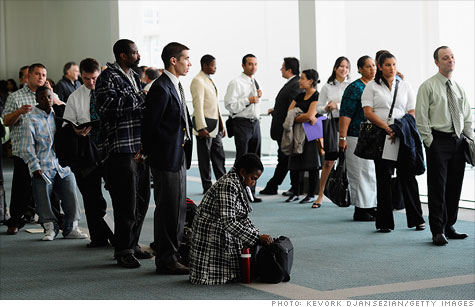 Job seekers look for employment at a career fair In Los Angeles.
NEW YORK (CNNMoney) -- Growth in the job market weakened in May, surprising economists and spurring them to call a report on private payrolls "shockingly weak," "grim," and even a "hairball."
"The ADP Employment report coughed up a hairball in May," Robert Dye, senior economist with the PNC Financial Services Group, said in a research note, referring to a report by payroll processing company ADP released Wednesday.
That report showed private sector employers added only 38,000 workers in May, far lower than the revised 177,000 jobs added in April and much weaker than economists had expected.
That level of job growth is the weakest number since September. According to ADP, the private sector had added 100,000 jobs in each of the prior six months leading to May.
"No matter what, this is obviously a very, very weak result," said Jennifer Lee, senior economist with BMO Capital Markets. "Employers are still hiring but they're reluctant to pick up the pace until they're convinced the recovery is self-sustaining."
The broader services sector added 48,000 jobs overall, its slowest growth since last July.
The manufacturing sector cut 9,000 jobs, the financial services sector lost 6,000 jobs and the construction sector pared 8,000 workers.
The ADP report followed on the heels of an already disappointing jobs number released by outplacement consulting firm Challenger, Gray & Christmas on Wednesday morning.
According to that report, the pace of planned job cuts edged higher in May, as 37,135 jobs went on the chopping block -- a 1.8% increase from April's planned job cuts.
But government sector layoff announcements dominating those numbers.
"Despite several signs of weakness in the recovery, the continued slow pace of downsizing outside of the government sector suggests that employers do not see these as long-term problems," John A. Challenger, chief executive officer of Challenger, Gray & Christmas said in a statement.
The ADP and Challenger reports typically set the tone for the government's highly anticipated monthly jobs report due Friday.
Prior to seeing those reports Wednesday, economists surveyed by CNNMoney had predicted that the economy added 176,000 new jobs in May, including a private sector payrolls gain of 193,000.
Now they say there's a much higher risk the government's tally could come in much lower.
Ian Shepherdson, chief U.S. economist with High Frequency Economics, cut his forecast for Friday's private-payroll government number to 75,000 from his previous estimate of 175,000.
Diane Swonk, chief economist of Mesirow Financial -- who had previously predicted a gain of 190,000 private sector jobs -- said she wouldn't be surprised to see that number now fall below 100,000 in May.