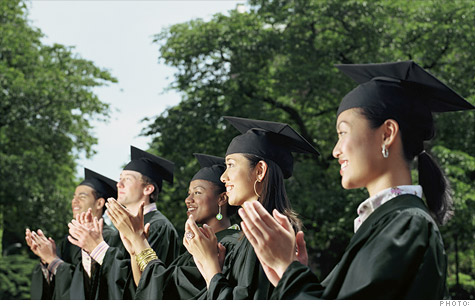 The U.S. Department of Education issued new regulations raising the job-placement benchmark for federal funds to for-profit colleges.
NEW YORK (CNNMoney) -- In order to receive federal funding for education programs, for-profit colleges now need to prove that their graduates are actually getting jobs.
A new regulation issued by the Department of Education blocks federal aid to students enrolled in programs resulting in high debt for graduates who are left without secure jobs allowing them to pay that debt.
"While many career college programs are helping to prepare America's workforce for the jobs of the future, far too many students at these schools are taking on unsustainable debt in exchange for degrees and certificates that fail to help them get the jobs they need or were promised," the department said in a statement.
The regulation requires for-profit programs and certificate programs at nonprofit and public institutions to meet employment benchmarks in order to quality for federal aid. A program has to meet three requirements: at least 35% of graduates are paying their student loans, and the annual loan payment does not exceed 30% of a graduate's discretionary income or 12% of total earnings.
"These new regulations will help ensure that students at these schools are getting what they pay for: solid preparation for a good job," said Education Secretary Arne Duncan..
A group representing for-profit schools expressed dissatisfaction with the new funding benchmarks.
"We remain very concerned that the gainful employment regulation, while reflecting the fact that the department has listened to the sector and made changes to its initial proposal, is still using the same ill-advised metric approach to this matter and is clearly outside of its statutory authority," said the Association of Private Sector Colleges and Universities, in a statement.
Another organization, the Institute for College Access & Success, said the new rules won't be effective enough in ensuring that the $30 billion in federal aid and $9 billion in Pell Grants issued this year would result in gainful employment for graduates.
"The final gainful employment rule is a first step towards preventing federal taxpayer dollars from being wasted on career education programs that leave students with nothing but insurmountable debt," read a statement from the institute. "Unfortunately the final rule will allow many programs that overcharge and under-deliver to continue to receive federal student aid."
Shares of for-profit education stocks jumped in premarket trading after the final rules were announced. Shares of Corinthian Colleges (COCO) rose almost 8%, while shares of Apollo Group (APOL, Fortune 500) rose more than 5%. Bridgepoint Education (BPI)'s stock edged up 4%.