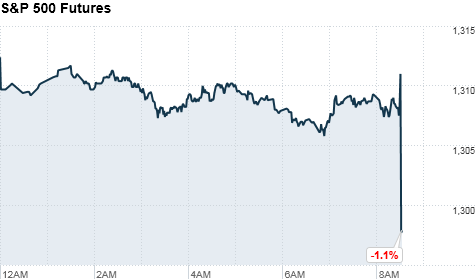 Click chart for more market data
NEW YORK (CNNMoney) -- U.S. stocks were headed for a sharp sell-off at Friday's open, following a weak report from the government showing a disappointing slowdown in job growth.
Dow Jones industrial average (INDU), S&P 500 (SPX) and Nasdaq (COMP) futures were more than 1% lower ahead of the opening bell. Futures measure current index values against perceived future performance.
Over the last few months, signs of a stalling recovery have been building, with stocks delivering their worst monthly performance in May since August 2010.
The government's May jobs report only exacerbated those worries.
"The labor market is sick -- it's horrible," said John Lonski, chief economist for Moody's.
Employers added a mere 54,000 jobs last month, down from a downwardly revised 232,000 in the previous month. The unemployment rate nudged up to 9.1%.
That was much worse than expected. CNNMoney's survey of 26 economists forecast 170,000 jobs were created in May, and that the unemployment rate would have ticked down to 8.9%.
"The U.S. economy has gone from the most severe recession since the great recession to the worst recovery since the great recession -- despite two years of economic recovery, today's level of payroll employment is a very deep 7 million jobs under where it peaked in January 2008," said Lonski.
U.S. stocks closed mostly lower on Thursday, with the Dow and S&P falling for a second day in a row, as fears about the economy weighed on investors' minds.
Economy: The Institute for Supply Management will put out its May services index at 10 a.m. ET. Economists polled by Briefing.com are looking for the index to edge up to 53.3 from April's 52.8.
Bonds: The price on the benchmark 10-year U.S. Treasury jumped following the weak jobs report, pushing the yield down to 2.95% from 3.03% late Thursday.
Currencies and commodities: The dollar dipped against the euro and the Japanese yen, but rose versus the British pound.
Oil for July delivery slipped $1.70 to $98.70 a barrel.
Meanwhile, gas prices inched up for a second day, following a 20-day streak of declines.
Gold futures for July delivery rose $8.20 to $1,540.20 an ounce.
Companies: The U.S. Treasury announced Friday it sold off its last remaining stake of Chrysler Group LLC to Italian automaker Fiat, which already holds a controlling share. The Treasury said on Thursday that it will sell its 6% stake -- 98,461 shares -- to Fiat for $500 million.
On Thursday, online coupon company Groupon filed for a $750 million initial public offering. Groupon plans to trade under the symbol "GRPN."
World markets: Moody's Investors Service said Friday it has downgraded the deposit and senior debt ratings of eight Greek banks.
The move comes two days after Moody's downgraded the Greek government's credit rating to Caa1, its third-lowest rating, adding to worries that a second bailout may be needed to prevent the country from defaulting on its debt.
The news had little impact on European stocks, which were little changed in morning trading. Britain's FTSE 100 hovered just above the breakeven point, the DAX in Germany rose 0.3% and France's CAC 40 slipped 0.1%.
Asian markets ended the session mixed. The Shanghai Composite finished 0.8% higher, while the Hang Seng in Hong Kong slipped 1.3% and Japan's Nikkei fell 0.7%.