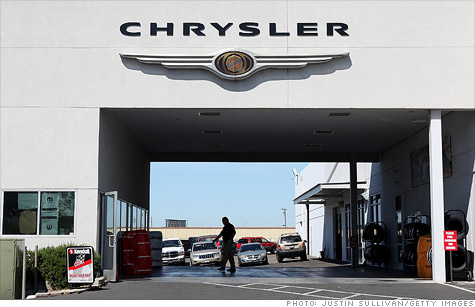 Fiat agreed to snatch up the rest of Chrysler, bringing an end to the bailout.
NEW YORK (CNNMoney) -- The U.S. Treasury said it has agreed to sell its last remaining stake of Chrysler Group LLC to the Italian automaker Fiat, wrapping up the 2009 bailout.
The Treasury said Thursday that it will sell its 6% stake, of 98,461 shares, to Fiat for $500 million.
While the repayment closes the book on the bailout, taxpayers are still about $1.4 billion short of recouping all the money given to Chrysler in 2009 to keep it afloat during bankruptcy.
Fiat also agreed to pay $75 million for the right to buy shares held by the United Auto Workers retiree trust, as well as the right to certain potential proceeds in the future. As part of the deal, Treasury will get $60 million of that additional money, with the remaining $15 million going to the Canadian government.
"As Treasury exits its investment in Chrysler, it's clear that President Obama's decision to stand behind and restructure this company was the right one," said Treasury Secretary Tim Geithner, in a press release. "Today, America's automakers are mounting one of the most improbable turnarounds in recent history -- creating new jobs and making new investments in communities across our country."
This follows another purchase that Fiat made on May 24 of $1.3 billion worth of Chrysler's shares. On that same day, Fiat repaid its loans, of $7.6 billion, to the U.S. and Canadian governments.
General Motors (GM, Fortune 500) has also repaid loans it received from the bailout. But Treasury still owns about one-third of GM's shares, worth approximately $16 billion.
Things are looking up for Chrysler, which managed to buck an industry-wide trend in declining sales. The automaker's redesigned models contributed to a 10% increase in May compared to last year.
GM reported a slight decline, of a little more than 1% compared to last year, while Ford Motor Co.'s (F, Fortune 500) sales were about even with last year.
--CNNMoney senior writer Chris Isidore contributed to this report.