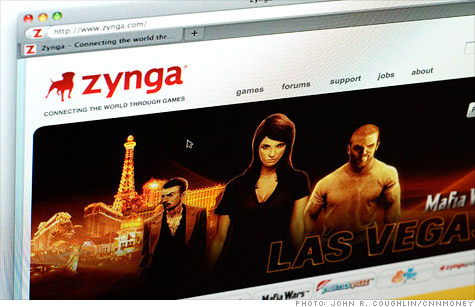 NEW YORK (CNNMoney) -- Zynga is preparing for an initial public offering, and a filing could come as early as next week, according to those with knowledge of the company's plans.
The creator of the -Ville online game franchise will make its public debut in a fast-thawing tech IPO market.
"I think Zynga has had this in the works for many months," says Nitsan Hargil, director of research at GreenCrest Capital. Two other sources confirmed that the IPO filing is coming soon. It will offer the first public look at the four-year-old company's finances.
Hargil estimates that Zynga is worth $14.5 billion. The company has seen massive success with FarmVille, FishVille, Mafia Wars and many other games on Facebook.
"They will not just be just a little profitable," Hargil said. "They will be profitable in a very big way."
That would set Zynga apart from the other splashy tech startups that have debuted this year.
LinkedIn, which went public last month, revealed that it earned just $15 million in 2010. Prior to that, LinkedIn was in the red every year since its 2003 inception -- except for a slight profit in 2006.
Groupon's river of red ink is even deeper. Groupon filed for its IPO on Thursday, revealing that it lost $413 million in 2010 and lost almost $114 million in the first quarter of 2011.
Investors seem to shrug off those figures, thanks to pent-up demand for tech IPOs. LinkedIn (LNKD) shares more than doubled in its debut, leaving the site with a $9 billion valuation. Trading has leveled off a bit since then but shares are still going for well above LinkedIn's $45 IPO price.
How Zynga makes money: Zynga could be even more successful, Hargil said, as it's "in a completely different category" than most of its peers. He estimates that the company pulls in a whopping $17 million in free cash flow per month.
"This is one of the fastest growing companies in history, in any sector," Hargil said. "Zynga is not your standard Internet bubble company. Not many four-year-old firms have great revenue, growth, and margins."
Hargil estimated that Zynga gets about 80% of its revenue from just 3% of its users paying real money for virtual goods, like tractors and animals for their online farms.
The other 20% comes from unique forms of advertising, he said -- like Starbucks (SBUX, Fortune 500) paying to have a virtual coffee shop in CityVille. Users might have to visit that virtual store 10 times in order to build a Starbucks franchise in their own virtual cities.
"It's a lot of clever methods that require constant interaction from the user," Hargil said. "It's much more powerful than traditional banner ads. It's very smart."
Overcoming a spammy past: These "smart" business methods are a far cry from Zynga's past, in which it resorted to spammy and scammy tactics to gain new gamers and monetize existing ones.
Facebook users became so frustrated with Zynga notifications clogging up their newsfeeds and dashboards that Facebook decided to expressly prohibit the practice. Existing Zynga users found themselves flooded with offers to try shady third-party "partner services."
"Zynga did resort to questionable methods," Hargil said. "They were using those very successfully to become a profitable company before they raised a single venture capital dollar."
Zynga has worked to distance itself from that "questionable" past, and they've made lots of moves to make the company more attractive ahead of the IPO -- including raising a reported $500 million in a funding round earlier this year.
"Showing the market that you don't need money is the best way to get more money," Hargil said. "Zynga is going to play this game to its every advantage."