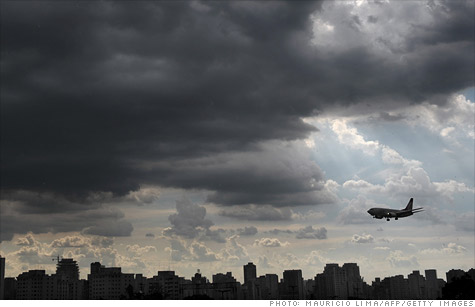 Rising fuel prices and natural disasters are taking a bite out of airline profits, but demand is still rising, says the International Air Transport Association.
NEW YORK (CNNMoney) -- This year is going to be a tough one for the airline industry, based on a dismal profit forecast from the International Air Transport Association.
The group said that it expects profits to plummet 78% to $4 billion this year, compared to last year's net profit of $18 billion. This makes for a measly margin of 0.7% in 2011.
The industry group downgraded this year's previous profit forecast of $8.6 billion, which it issued back in March, following a series of disruptions to global airlines.
Rising fuel prices were blamed as a major culprit in cutting profitability, compounded with regional sources of turmoil including earthquakes, a tsunami, nuclear power meltdowns and political strife.
"Natural disasters in Japan, unrest in the Middle East and North Africa, plus the sharp rise in oil prices have slashed industry profit expectations to $4 billion this year," the group's director general Giovanni Bisignani said in a press release from the Singapore-based organization.
Fuel currently burns up 30% of an airline's costs, compared to 13% back in 2001 the transport association said.
Bisignani said that the airline industry's efforts to streamline its fleets in recent years to offset high fuel prices will help the airlines to avoid a loss. But the razor-thin profit margin means there is "little buffer left against further shocks."
Airlines are offsetting some of the pressure by increasing fares, as well as maximizing capacity by filling planes and scrapping their least fuel-efficient flights. Despite these higher fares and the weak economy, airlines are experiencing increased demand. The industry group expects international passenger demand to jump by 4.4% in 2011.
As a region, the Asia-Pacific carriers are expected to post a profit of $2.1 billion -- the largest in the world -- as growth in China and India offset the impact from natural disasters in Japan. But that's a steep drop from last year's $10 billion profit for the Asia-Pacific region.
European carriers are expected to post a profit of $500 million, down from last year's profit of $1.9 billion, blaming the slow-down on the sovereign debt crisis in "peripheral European economies." This is an apparent reference to the so-called PIIGS - Portugal, Italy, Ireland, Greece and Spain -- which are suffering from slow economies and excessive debt.
North American carriers are expected to post a profit of $1.2 billion this year, down from last year's $4.1 billion. Aside from rising fuel prices, the disasters in Japan -- a country that is responsible for 12% of North American carriers' international revenues -- contributed to the fall in profits.
The lion's share of North American carriers' profits are likely to be in the U.S. Delta (DAL, Fortune 500), US Airways (LCC, Fortune 500), United/Continental (UAL, Fortune 500), JetBlue (JBLU) and Southwest (LUV, Fortune 500) are all expected to generate profits, according to Maxim Group airline analyst Ray Neidl. But American Airlines (AMR, Fortune 500) is an exception, he said, with a "significant loss" expected for this year.
The Air Transport Association, an industry group in Washington, D.C. representing U.S.-based airlines does not have a profit forecast for 2011, but says higher fuel prices will continue to hurt airlines. The net profit for all U.S. airlines was about $3 billion to $4 billion in 2010.
John Heimlich, an economist for the domestic industry group, said that 2010 was "one of only three profitable years in the entire decade."
Other factors, like inclement weather, can throw a wrench into the airline industry and cause costly cancellations. FlightStats said that cancellations were on the rise in North America during April and May, because of heavy thunderstorms and tornadoes.
These costly cancellations, combined with rising fuel prices, give the airlines plenty of incentives to drive up airfares.
Rick Seaney, CEO of Farecompare.com, on May 31 said that summer airfares were higher, by a range of $30 to $60, compared to the summer of 2010. That's an average increase of 10% to 18% for domestic flights, he said.
But despite these higher prices and the sluggish economy, Seaney said that "pent-up demand" is making it easy for the airlines to fill their flights.
"Demand is really good," he said. "This summer, it's overheated. "