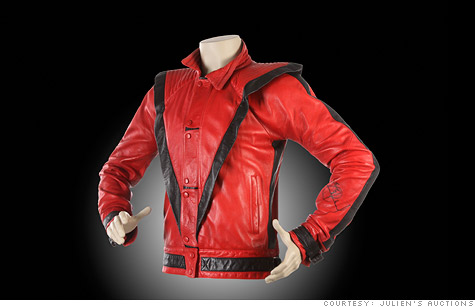 This calf-skin jacket, worn by Michael Jackson in his iconic 'Thriller' video, is expected to sell for up to $400,000.
NEW YORK (CNNMoney) -- It may not go with everything, but if you plan on getting down with zombies under a full moon, consider this classic from Michael Jackson's wardrobe.
The red and black jacket with signature "winged shoulders" that the King of Pop wore during the filming of the iconic "Thriller" music video will be up for sale later this month as part of a large auction of music memorabilia.
The auction will feature over 600 collectibles from pop music's pantheon, including The Beatles, Madonna and Elvis Presley, as well as more recent sensations such as Justin Bieber and Lady Gaga.
Items on the block range from a pair of sneakers signed by Britney Spears to a luxury car owned by Frank Sinatra. There is also a stage that Jimi Hendrix played on, part of a guitar that was smashed by Nirvana's Kurt Cobain and handwritten lyrics for songs by Johnny Cash.
But the centerpiece of the auction is the "Thriller" jacket, which is expected to fetch between $200,000 and $400,000, according to the auctioneer, California-based Julian's Auctions.
A portion of the proceeds will go to an animal sanctuary outside of Los Angeles that is currently home to Jackson's two Bengal tigers, "Thriller" and "Shabu."
The jacket became part of Jackson's look for a decade and served as the inspiration for a "1980's fashion craze like none other," according to a press release from Julian's Auctions.
Before he died in 2009, Jackson gave the jacket to his two wardrobe designers, Dennis Tompkins and Michael Bush. The sleeve is signed and the lining has the inscription: "To Bush and Dennis, All My Love, Michael Jackson."
"Thriller" was the title track of Jackson's 1982 album, which sold an estimated 110 million copies worldwide, making it the best-selling album ever.
The song was made into a 14-minute music video that parodies conventions from cheesy horror movies. In the video, Jackson is transformed into a werewolf-zombie who leads the undead in a highly choreographed dance number, among other mayhem.
"Thriller" remains popular to this day and has been the subject of many homage videos, including one in which a group of Filipino prisoners reenact the entire dance sequence.
Among the other Jackson items being offered are a fedora, a black wig and a sequined glove he wore at the American Music Awards.
The auction will be held on June 25 and June 26 at Julian's Auctions in Beverly Hills, Calif., and online.