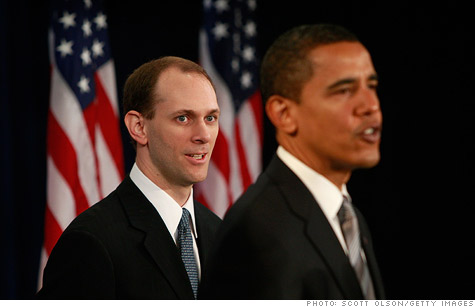 Austan Goolsbee, chairman of the Council of Economic Advisers, is leaving the Obama administration to return to teaching at the University of Chicago.
WASHINGTON (CNN) -- President Obama's top economic adviser, Austan Goolsbee, is leaving the administration to return to the University of Chicago, the White House announced Monday.
Goolsbee has been an outspoken defender of Obama's policies as the U.S. economy struggles to find its footing following the steep recession of 2007-09. In a statement announcing Goolsbee's departure, Obama called him "a close friend" and "one of America's great economic thinkers."
"Over the past several years, he has helped steer our country out of the worst economic crisis since the Great Depression," Obama said. "And although there is still much work ahead, his insights and counsel have helped lead us toward an economy that is growing and creating millions of jobs."
The White House announcement did not name a successor.
The announcement came after a series of reports that showed the U.S. economy struggling to maintain headway after the housing bust, banking crisis and recession. On Sunday, Goolsbee told CNN's "State of the Union" that despite disappointing employment, manufacturing and housing price figures, the long-term trends remain positive.
Goolsbee taught at the University of Chicago for 14 years before joining the administration and will return to the school in time for the fall semester, the White House said. Before being named chairman of the advisory council in September, he served as a senior adviser to Obama's Council on Jobs and Competitiveness and as staff economist for the Economic Recovery Advisory Board.
"There's no question as you come out of the worst downturn in most of our lifetimes, that it is going to be fragile," Goolsbee said. But he said the economy was "a million miles" from its condition when Obama took office, "when the economy's losing 780,000 jobs a month and people are actively talking about will there be an end to the financial system in the United States."
Goolsbee took over for Christina Romer, who stepped down last September from the job running the White House Council of Economic Advisers. Goolsbee was on the original White House economic team, serving on the council with Romer and Cecilia Rouse, that swept into office in January 2009 at the height of the financial crisis.
Only Secretary Tim Geithner and Federal Reserve Chairman Ben Bernanke remain of Obama's original economic brain trust. Rouse left the White House earlier this year to teach at Princeton.
Last Friday, when dour-than-expected unemployment figures were released, Goolsbee was the first to give them an upbeat spin calling them a "bumps on the road to recovery," a phrase repeated in Obama's speech later that day and throughout the weekend.
But the financial markets weren't so sure. Stocks closed lower again on Monday, as investors remained nervous about the nation's economic future.
-- CNNMoney senior writer Jennifer Liberto contributed to this story