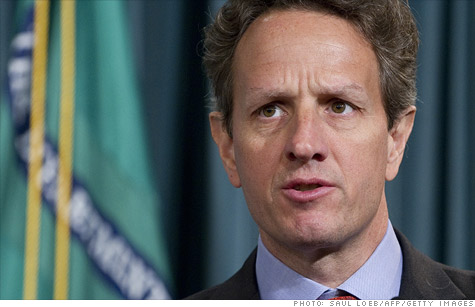 Treasury Secretary Tim Geithner said lobbying by banks could undercut last year's financial reform law.
WASHINGTON (CNNMoney) -- Treasury Secretary Tim Geithner called out Wall Street and lawmakers on Monday for trying to undermine last year's landmark financial reform law.
In a speech to bankers in Atlanta, Geithner singled out congressional efforts to block presidential appointees to agencies as well as efforts to "starve" regulators of funding they need to hire top-flight staffers.
"Over time these efforts will make it less likely there will be enough capable people to ensure the rules will work," Geithner warned.
Geithner wagged his finger at the largest banks, which play a big role in influencing policymaking in Washington.
This year alone, financial firms have spent $116 million lobbying Congress and federal agencies, according to the nonpartisan Center for Responsive Politics.
"Those of you who run major U.S. institutions, you should be champions, and not opponents, of getting stronger persons into these positions over time," Geithner said.
Geithner's comments come the same day that Nobel prize winner Peter Diamond withdrew his nomination to the Federal Reserve Board, citing Republican opposition.
Additionally, Senate Republicans have threatened to block any presidential nominee to run the Consumer Financial Protection Bureau unless the bureau's powers are weakened.
In the House, Republicans have called for drastic budget cuts to regulatory agencies charged with implementing the 2010 Dodd-Frank financial reform law.
The Securities and Exchange Commission says it has delayed implementation of some rules, like those cracking down on credit rating agencies, "due to budget uncertainty."
The SEC has also had to nix a move to bigger office space, which they thought they'd need to hire some 800 new staffers.
The issue of pay at regulatory agencies came up at tense congressional hearing last month about the new consumer bureau.
Lawmakers blasted Treasury official Elizabeth Warren, who is working to set up the bureau, for advertising jobs at the bureau that paid 60% to 90% more than equivalent positions in other parts of the federal government.
Warren defended the salaries, saying the consumer bureau is competing for talent and "we'll never be able to pay like the financial services industry pays."
In the first three months of 2011, some of the largest banks spent more than a $1 million apiece on lobbying Congress and federal agencies. The big spenders were Goldman Sachs (GS, Fortune 500), Wells Fargo (WFC, Fortune 500), JPMorgan Chase & Co. (JPM, Fortune 500), Barclays (BCS) and Citigroup (C, Fortune 500).
Right behind were Bank of America (BAC, Fortune 500), which spent $930,000, and Morgan Stanley (MS, Fortune 500), which spent $740,000 in the same period.
Geithner said that firms supporting efforts to block resources and appointments to federal agencies are "looking for leverage over the rules still being written."
He warned that the lobbying could have grave consequences and "create the conditions again" for a dynamic where "poorly-managed risk" causes another financial crisis.
The American Bankers Association didn't return a request for comment.