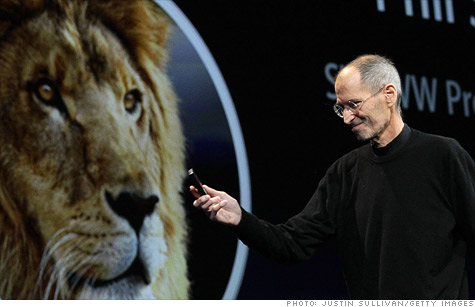 Steve Jobs started Apple's keynote by talking about the Lion OS X update, but made the splashiest announcement with iCloud.
NEW YORK (CNNMoney) -- Apple CEO Steve Jobs unveiled iCloud, a free wireless storage and syncing service, at Apple's annual Worldwide Developers Conference on Monday.
Jobs took a break from his medical leave of absence to deliver the event's keynote address in San Francisco. It was his second public appearance since he temporarily turned over day-to-day operations to Apple's COO Tim Cook.
ICloud automatically stores content to Apple's servers (also known as "the cloud") and wirelessly pushes information to all of a users' Macintosh computers or iOS devices, like the iPad, iPhone and iPod Touch. The new service will launch this fall, Apple said on its website.
The splashiest part of iCloud is its iTunes integration. When a user purchases a song in iTunes, it will automatically push to all other devices that run iTunes for free.
Additionally, for $25 a year, users will be able to access up to 20,000 songs from their entire iTunes libraries -- including those songs not purchased on iTunes -- on all of their devices with a new service called iTunes Match.
To do this, Apple scans a user's library, and within a matter of minutes matches it to the more than 18 million songs that the company acquired licensing rights for. For songs that don't match, users can upload those online.
"It has all the same benefits of music purchased in iTunes, but it takes minutes, not weeks," said Jobs, taking a dig at competing services offered by Google (GOOG, Fortune 500) and Amazon (AMZN, Fortune 500), which force users to painstakingly upload all of their music to the cloud.
Amazon would charge $200 for 20,000 songs to be uploaded, and Google has yet to announce pricing for its service, which is still in beta testing.
The iTunes Match service is made possible by Apple's new server farm located in North Carolina, Jobs said. The scan and match technology was developed by a company called Lala, which Apple purchased and subsequently shuttered last year.
Besides music, the new iCloud service is also integrated with applications. So, for instance, a user could update an iPhone contact, and that contact is automatically updated across all other Apple devices.
ICloud also allows users to backup books, settings, documents, photos and music. That means a user could lose a device, sign in, and retrieve all of the lost device's data automatically.
Jobs also said iCloud will allow Pages, Numbers and Keynote documents to be stored in the cloud, so a user could start a document on a Mac and automatically pick it up and finish it on an iPad.
Photos will work the same way, syncing across devices.
ICloud is a free service that will replace Apple's previous cloud offering called MobileMe. That service was available for an annual $99 subscription, and it never really caught on with customers. It has been plagued by bugs, and Fortune reported that Jobs lambasted the development group for its failure. Only the iTunes Match portion of iCloud will require users to pay a fee.
"You might be asking, 'Why should I believe them? They're the ones that brought me MobileMe,'" Jobs said Monday. "ICloud just works."
Mac OS X Lion
The CEO, looking frail, received a standing ovation from the thousands of developers in attendance. He started the conference by introducing new software for Apple's devices. Calling software the "soul" of Apple's products, he handed off the first demonstration, the new Macintosh operating system called Lion, to Phil Schiller, Apple's marketing head.
Schiller said Lion has 250 improvements, and will go on sale next month in the Mac App Store for $29.
Lion will enable multi-touch gestures to control Mac applications and does away with scrollbars: Gestures will be able to control in-app scrolling, navigation between apps and will allow users to take apps into full-screen mode. The new OS also carries several backup improvements, including a feature called "resume," which takes you back to where you were when you last shut down the system, right down to what text you had selected.
In March, Jobs declared the beginning of the "post-PC era," yet Schiller said Macintosh still remains relevant. There are 54 million Mac users worldwide, and Mac sales have outpaced the PC industry as a whole each quarter for the past five years.
IOS 5
Yet so-called "iOS" devices, including the iPad, iPhone and iPod Touch, have replaced Mac as Apple's most lucrative product group. The company says it has sold 200 million iOS devices, capturing 44% of the mobile device market. That would make it the largest mobile OS in the world in terms of device sales.
Apple impressed further with the numbers: The company said its App Store currently offers 425,000 apps, including 90,000 specifically designed for the 25 million iPads it has sold so far.
In the latest version, iOS 5, Apple said notifications will no longer interrupt your tasks, Twitter will be integrated throughout the operating system, browsers can be tabbed, and things you want to read can be synced across multiple iOS devices. It will also feature location-sensitive reminders, the ability to take photos from the lock screen, a game center and a BlackBerry Messaging-like application called iMessage.
Again, mentioning the "post-PC world," Apple said iOS devices no longer need to be synced with a PC to be activated or receive updates. The new iOS 5 will be sent to users this fall.
Apple (AAPL, Fortune 500) typically keeps the content of its keynotes a secret, but this year the company offered up a press release a week in advance saying Jobs would show off iCloud as well as its new operating systems for Macs, iPods, iPhones and iPads.
This year's WWDC will be the first since the iPhone debuted in 2007 in which Jobs won't unveil a new iPhone. The company already had some iPhone news this year when it launched the iPhone 4 on Verizon (VZ, Fortune 500). Apple is rumored to have switched its next iPhone event to the fall.