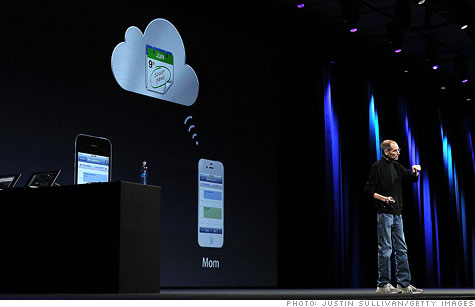 Apple CEO Steve Jobs unveiled iTunes in the Cloud at the WWDC conference in San Francisco Monday.
NEW YORK (CNNMoney) -- There was a surprising news tidbit buried in the fine print of Apple's splashy iTunes in the Cloud announcement on Monday: You can't get it right now if you have a Verizon iPhone.
Apple made iTunes in the Cloud immediately available on any iPad, iPod Touch, PC, Mac or iPhone running the latest version of Apple's software. (Its full iCloud service will launch this fall.)
And that's the problem: Verizon iPhone customers still haven't gotten the latest version of the iPhone software that was released to AT&T customers in March. In fact, AT&T iPhone customers have gotten three minor updates since then, and they're running iOS version 4.3.3. Verizon customers are still stuck on version 4.2.8.
It's not clear why the Verizon iPhone has been delayed. The Verizon and AT&T iPhone 4 devices are essentially identical, except for the Qualcomm chipset that exists inside the Verizon version. That chip is designed to work on Verizon's network, which is incompatible with AT&T's.
But Verizon's iPad, which also has a Qualcomm chip inside, received the update for iOS 4.3 along with the AT&T iPad.
Apple (AAPL, Fortune 500), Verizon (VZ, Fortune 500), AT&T (T, Fortune 500) and Qualcomm (QCOM, Fortune 500) all declined to comment.
Verizon customers are used to being second-class iPhone citizens. It took them four years to get their hands on the device in the first place, as AT&T held an exclusivity contract with Apple for U.S. customers since the device debuted in 2007.
ITunes in the Cloud allows users to automatically push songs they purchased in iTunes to all other devices that run the latest version of iTunes.
It's separate from Apple's iTunes Match announcement, which will debut later this fall as part of its iCloud. With that service, users will be able to access up to up to 20,000 songs from their entire iTunes libraries -- including those songs not purchased on iTunes -- on all of their devices for a fee of $25 per year.
Apple has not yet said whether all iPhone users will receive the update at the same time.