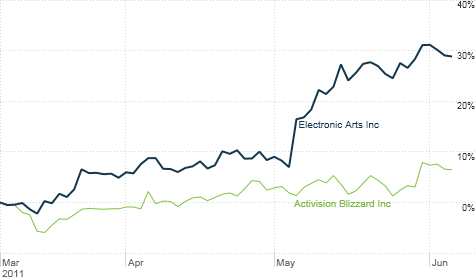 Video game publishers Electronic Arts and Activision have been making strides with digital sales . Click the chart for more data on EA.
NEW YORK (CNNMoney) -- Investors are betting on video game publishers...and winning big.
After two years of struggling for sales, companies such as Electronic Arts (ERTS) and Activision Blizzard (ATVI) are starting to make some headway by ramping up their digital side.
Electronic Arts' earnings more than tripled in its most recent quarter, thanks to a 70% jump in digital-only sales.
And shares of EA, which publishes the popular "Madden" NFL sports games, have surged 11% from the start of the year. The stock is now trading at a five-year high.
"EA just recently has starting doing things right," said Wedbush Morgan Securities analyst Michael Pachter.
Activision is a slightly different story.
While Activision's stock is down 7% from the start of the year, it has jumped some 12% off its 2011 low.
The company's stock got a whopping 5% boost after the company unveiled a much-anticipated, subscription-based service tied to the company's "Call of Duty" series.
That's helping Activision make a lucrative transition away from the traditional disc-in-a-box format, especially since more than 60% of the company's sales comes from two franchises: "Call of Duty" and "World of Warcraft."
The new "Call of Duty Elite" service is one way of getting "Call of Duty" players to pay the same amount as those who play "World of Warcraft," which is already subscription based, analysts said.
"It's not clear if consumers will accept it or not, but Activision needs to try it," said Arvind Bhatia, an industry analysts with Stearne Agee.
Both social and mobile gaming are broadly seen as the next high-margin, growth segment for the industry.
Social gaming site Zynga, which makes popular Facebook titles "Farmville" and "Mafia Wars," is widely expected to file for an initial public offering in the coming weeks.
At least one analyst has said Zynga is worth some $14.5 billion. EA's valuation is half that.
These publishers are making all the right moves say analysts, especially as consumers remain skittish about spending. And companies that are behind the curve are hurting.
Nintendo (NTDOY) is a prime example. The company's stock is trading at a five-year low as sales of the company's popular Wii console have stalled and as initial sales of its new handheld the 3DS have been lackluster.
"I think Nintendo is justifiably blaming the 3DS's problems on the lack of software," Pachter said. "The handheld market is shifting to smart phones [so]you can say Nintendo is suffering from an iPhone problem, and unfortunately they're kinda stuck with it."
On Tuesday, Nintendo acknowledged it was still struggling with its digital strategy.
Nintendo unveiled its newest console, the "Wii U," which will have the ability to download content. It will have some social media components and also the ability download video and photos. The controller, the centerpiece of the new console, got several early comparisions to Apple's popular iPad.