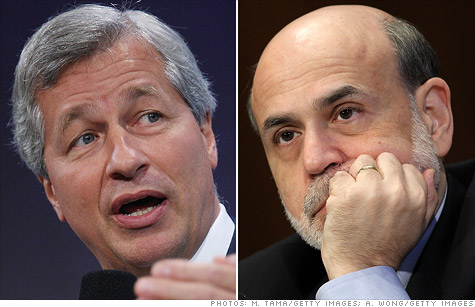 "Is [financial reform] holding us back at this point?" JPMorgan Chase CEO Jamie Dimon (left) questioned Federal Reserve Chairman Ben Bernanke Tuesday.
NEW YORK (CNNMoney) -- JPMorgan Chase CEO Jamie Dimon is still griping about financial reform, and this time, he took his complaints straight to the top official at the Federal Reserve.
"I don't personally buy the argument that because it was a financial crisis it has to take a long time coming out," Dimon said in a Q&A session following a speech by Ben Bernanke at the International Monetary Conference in Atlanta Tuesday.
In his speech, Bernanke acknowledged that the economy was "below its potential," following a recent onslaught of negative economic news including a disappointing jobs report and weaker than expected-economic-growth.
Dimon blames financial reform for stifling growth. He gave the Fed Chairman a laundry list of ways regulators have already cracked down on the banking system, after the Dodd-Frank financial reforms were passed last year.

"Most of the bad actors are gone," "off-balance-sheet businesses are virtually obliterated," "money market funds are far more transparent" and "most very exotic derivatives are gone," he said.
Dimon, who is known for his vocal opposition of many of the Dodd-Frank reforms, said he fears those reforms may be hindering, rather than helping, the recovery.
"Has anyone bothered to study the cumulative effect of all these things?" he asked Bernanke. "Is this holding us back at this point?"
Bernanke responded at first with a quip.
"Well, Jamie, that list you gave me made me feel pretty good there for a while, because it sounds like we're getting a lot done," he said.
But in the end, Bernanke conceded that government officials have not examined the effect of stricter banking regulations may be having on economic growth.
"Has anybody done a comprehensive analysis of the impact on -- on credit? I can't pretend that anybody really has," Bernanke said. "You know, it's -- it's just too complicated. We don't really have the quantitative tools to do that."
Dimon's exchange with Bernanke comes a day after Treasury Secretary Tim Geithner -- at the same conference -- wagged his finger at Wall Street's biggest banks for lobbying against presidential appointees to financial regulators.
Nobel prize winner Peter Diamond withdrew his nomination to the Federal Reserve Board on Monday, citing partisan politics.
"Those of you who run major U.S. institutions, you should be champions, and not opponents, of getting stronger persons into these positions over time," Geithner said.
This year alone, financial firms have racked up a $126 million bill lobbying Congress and federal agencies, according to the nonpartisan Center for Responsive Politics.