NEW YORK (CNNMoney) -- Ahh June, the start of summer and wedding season a-palooza. According to TheKnot.com, June is the most popular month for weddings, and if you're the bride, groom or attending several this summer, there are a few ways you can keep your wedding budget under control, so you don't face a fall filled with debt.
Tip 1. Say "I do" to your wedding budget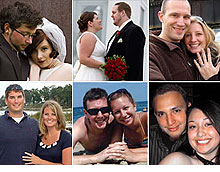 First, couples, accept you're probably going to go over budget, if you have one at all.
TheKnot.com says 42% of brides overspent when it comes to the big day, and 16% didn't even have a budget.
With the average wedding costing around $26,984, and that's not even including the honeymoon, which tacks on another $4,466 on average, you've got to determine your priorities.
Figure out where you're going to compromise -- maybe you won't go with the orchids, or order that extra appetizer for the cocktail hour.
Leave about a 10% cushion within your wedding budget for any unforeseen expenses, Carley Roney, editor in chief of TheKnot.com says.
Also, there are wedding daily deal sites out there to keep costs down. Roney recommends Wedobo, Wedding Channel Deals, My Daily Wedding Deals, and Bust My Budget for local discounts on everything from an officiant, dance lessons, and favors.
Tip 2. Cut the guest list and the cake -- in half
Now, if you're still in the blowing your wedding budget, trim that guest list.
The average number of wedding guests in 2010 was about 141 people, and since most venues charge per person, if you eliminate a few folks, it's the easiest way to be able to allocate funds to other areas.
You can save about 20% a person on catering expenses by holding your shindig on a Friday or Sunday, instead of the popular Saturday night wedding.
TheKnot.com says an afternoon wedding could also save you at the bar, since guests may be less willing to toss a few extra back.
Now, sounds crazy, but order half the cake. For guests, we've all been there -- you eat your way through a ton of hors d'oeuvres, dance, drink, eat a huge dinner, and when it comes time for cake, you're full.
Most weddings offer desserts other than the traditional wedding cake, so Roney says couples should order half the size of the cake needed. For example, if you have 150 guests, order cake for only 75 people. The only one who'll notice will be you, in your wallet, indulging on the savings.
Tip 3. RSVP broke
With guests spending around $60 to $120 on a wedding gift, your bank account can feel like it's on a constant debit to your engaged friends if you're attending multiple wedding events.
Amy Eisinger from WeddingChannel.com says if you're planning to spend $200, break it down like this: spend 20% on the engagement and shower gift at $40 each, and 60% or $120 on the wedding gift.
And while you may not be a fan of the couples' choice of dinner plates, it's what they want. Stick with the registry, don't bring the gift to the wedding, and if you're shopping last-minute, a good option is a gift card to one of the stores they're registered at, WeddingChannel.com advises.
If you forgot your gift, experts say you've got a six-month time frame to send one, and if you can't attend the reception, still send a gift to the newlyweds.
Now, to give or not to give a gift when it comes to destination weddings -- that's the etiquette question for many wedding guests. Some say the cost of travel is enough, but Eisinger says bring a gift.
Don't go over-the-top -- a small gift or a group gift with friends will suffice. But if the trip expense is putting a financial strain on you, explain your situation to the couple, and see if there are other ways you can give back to them - by house or pet sitting when they're away, or offering to cook for them one night