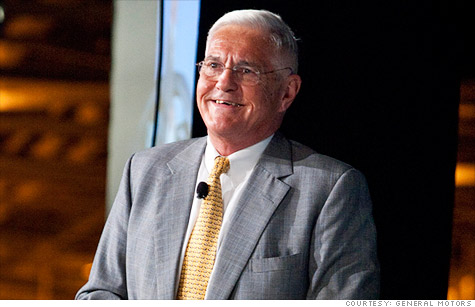 FORTUNE -- Among the reasons why Bob Lutz became the best-known auto executive of the last two decades are 1) his outsize public personality and cultivated personal style; 2) his continuing association with fast, sexy cars; and 3) his penchant for straight talk and honest answers.
This last trait has served him extremely well in writing what will become a milestone of his remarkable 47-year career. Car Guys vs. Bean Counters is the best book written by an auto industry insider since Iacocca in 1984, and deserves to be shelved alongside Alfred P. Sloan's management classic, My Years with General Motors. Lutz wrote every word -- in longhand -- and every sentence bears his distinctive voice.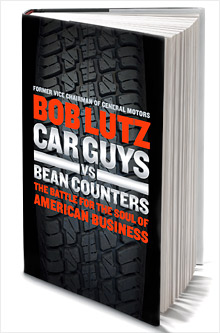 Lutz's years at General Motors (GM, Fortune 500) running product development and reporting to the CEO gave him a front-row as the lumbering old company went through its final death throes, tumbled into bankruptcy, and then was reborn streamlined, with fewer brands, fewer dealers, fewer employees, and less debt. The product development system that Lutz put in place is one of the few pieces of the old company that has survived the transition to the new and made its lineup of cars and trucks competitive for the first time in years.
(Full disclosure: I have known Lutz for more than 20 years, interviewed him frequently, and once shadowed him on the job for two days. Despite his abundant personal charm and skill at dispensing inside-the-industry gossip, I have steadfastly resisted, often successfully, becoming a member of Lutz's journalistic claque).
Lutz arrives at GM's 'horror show'
After holding top executive positions at BMW, Ford (F, Fortune 500), and Chrysler, Lutz knew what a car company should look like, and he didn't find it when he arrived at GM in 2001.
The dysfunctional company had been spiraling downward for more than two decades, in part because it was unable to develop appealing new models. Lutz dates the beginning of GM's decline to 1977 when a corporate apparatchik replaced the flamboyant Bill Mitchell as head of design. Product creation was re-assigned to a finance-dominated product planning function, and new models were stripped of their individuality in an ill-advised drive to economize.
"A 'culture of excellence' focused on manufacturing cost reduction and led to such dismal results as the early front-wheel-drive cars and the whole plastic bodied Saturn line," writes Lutz. "The system created research-driven, focus-group-guided, customer-optimized transportation devices, hamstrung in countless ways ... Designers were now reduced to the equivalent of choosing the font for the list of ingredients on a tube of Crest."
Deep-seated cultural problems also rose to the surface, including corporate hubris ( "We know what's best, no matter what others are doing"); exaggerated respect for higher authority: ("Everything said by the CEO and other senior leaders [was accepted ] as infallible gospel"); and a tendency to stifle debate and put off decisions until they were studied to death.
Within days of arriving at GM, Lutz began reviewing the future model lineup and went into shock. It was, he writes, "a horror show." None of the Saturns "had any charm or ornamentation to delight the eye," the heralded Cadillac CTS "lacked any charm or warmth," and its interior was "a failed experiment to attract the computer generation." Lutz immediately begins cancelling programs, including a seven-seat Saturn Vue that he says looked like half a camper body had been grafted onto it.
After firing off a lengthy memo to CEO Rick Wagoner, Lutz undertook to reform the system. The first step was to free design from its servitude to engineering and manufacturing and give its stylists more freedom to express themselves. The next was to dismantle the brand marketing system that dictated that every car model was its own brand and needed to be treated as such.
There were some setbacks. Lutz acquiesced to the development of the GMC XUV, an SUV with a retractable roof that he thought was "plain weird," because he was assured it would produce sales of at least 90,000 units annually. Writes Lutz: "Sales struggled, and after a grand total of 13,000 units were produced and forced into an unwilling market, production was stopped and the loss was written off. It was a bitter lesson ... but it taught me to adopt an attitude of total disdain for what the legions of MBAs in the 'volume' planning group came up with."
Naming names and settling scores
Lutz also helped free GM from its lowest common denominator approach to product development. Made public here for the first time is the "hider" technique that GM used on interiors, where the corners of adjacent plastic pieces were rounded off so customers wouldn't notice if they were misaligned. So is the specification that GM paint be purposely dulled down so it wouldn't show dust in the finish and other defects. Lutz also consigned to oblivion obsolete designs standards like ashtrays that functioned at 40 degrees below zero but couldn't be opened with a brick. Or the rule that called for wheels tucked under the body to reduce damage to the paint when driving on gravel roads. "That might have been a major issue in the 1930s, but it was easily solved by applying anti-stone chip primer. It's universally used, and it's not rocket science."
Lutz reveals some timeworn prejudices as well. He complains that the Japanese, and especially Toyota (TM), get a free ride from the media, and moans about how much they benefited from government fuel economy regulations. He fingers GMAC and its subprime mortgage business for greasing GM's slide into bankruptcy. He even takes on Northwest Airlines, Detroit's hub carrier now merged with Delta (DAL, Fortune 500), for canceling half-full flights so they could be consolidated with later flights to produce a higher load factor. What would have happened, he wonders, if the Big Three executives, ridiculed for flying their corporate jets to Washington to ask for a government bailout in 2008, had bought tickets on Northwest, only to have their flights cancelled?
What fun would a first-person book be without settling some scores? Lutz has special enmity for the marketing executives: Ron Zarrella is "the brand management guru who lied about having an MBA;" Vince Barabba "was very helpful in the needless intellectualization of a pretty simple business." And he fires a broadside at everyone at GM who would rather do things by the numbers, the "bean counters" of the title. "More than once," he recalls, "I was told that 'we' preferred to run the business based on 'hard numbers' rather than 'Bob's hunches.' And more than once, 'Bob's hunches' ultimately turned out to be correct and the dispassionate analysis dead wrong."
Lutz is somewhat backhanded in his treatment of Wagoner. He describes his boss as "a kind, intelligent CEO of spectacular human qualities" but clearly finds him insufficiently aggressive in attacking GM's process-preoccupied culture, developing breakthrough technology like the Chevrolet Volt, and in making GM's case before Congress. "The low point for me came up when Wagoner cast his gaze downward and mumbled an abject apology for having overemphasized the production of full-size trucks to the detriment of small cars. Here then was the spectacle of a browbeaten CEO apologizing for building the vehicles the public wanted."
Lutz's blind spots are as visible as ever. At the age of 79, he maintains an adolescent fascination with sports cars (the Pontiac Solstice), impractical show cars (the 2006 Cadillac 16), and cars with big engines (the 550-horsepower Cadillac CTS-V). He un-self-consciously compares his management style to that of Steve Jobs, Bill Gates, and Richard Branson. And in a chapter titled, "If I had been CEO" (a title he never achieved), he second-guesses the decisions by others during his tenure and confidently announces that any mistakes that he would have made would have been "errors of commission."
Today, Lutz runs kind of a regency in exile, communicating with journalists (always on background) to help shape his legacy. GM is a stronger, more viable company, mostly because of bankruptcy, and makes cars that people might actually want to buy, largely thanks to Lutz. As "Car Guys vs. Bean Counters" makes clear, he remains an original: brainy, forceful, stylish, candid, opinionated, and always willing to take command. Like his motto states, "Often wrong but seldom in doubt."