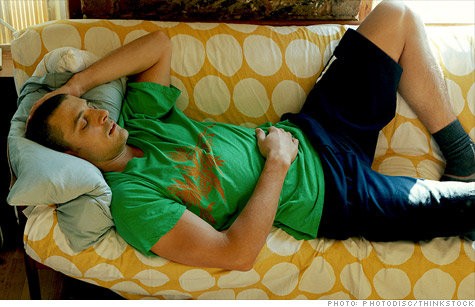 New survey of parents shows they're not too keen to pay for their adult kids' health care.
NEW YORK (CNNMoney) -- Call it tough love.
Now that health reform says uninsured adult kids can stay on their parents' health care plans for a couple of more years, guess what? Moms and dads are saying not on my dime!
A new survey of parents by eHealthInsurance, an online seller of individual health care from 180 insurers, shows the new benefit may not be as popular with parents as hoped.
This could be a big problem for college grads who face a brutal job market that severely hampers their chance of finding a full-time job with health insurance.
Even grads who score a part-time job often get inadequate health care coverage through work, or none at all.
The government had hoped that extending the age for dependent coverage to 26 would drastically reduce the large number of young adults who do not have any health care coverage.
But the survey's results show that parents, already facing higher costs to cover their families, are put off by the additional costs of taking advantage of the new provision.
"There was much more enthusiasm about this provision when parents first learned about it last year," said Carrie McLean, consumer health insurance specialist with eHealthInsurance.
But that eagerness waned after open enrollment, when parents learned how costly it would be to add or keep their adult kids as dependents on their plans longer, she said.
On average employees who go from individual coverage to family coverage pay $158 more in monthly premium contributions, Tracy Watts, senior health care consultant with Mercer, said.
Watts said coverage expansion for adult dependents was the number one question employers got from employees after health reform passed.
In fact, sometimes it costs less to buy an individual plan for an adult child than to add them to a parent's plan, especially if the child lives in a region not covered by the parents' doctors or provider networks.
Watts said her clients have reported a 5% increase in the number of new dependents added to employees plans since the provision went into effect.
Since this is the first year for the provision, it's not clear if that level means parents are shying away from taking advantage of it or not.
What is certain is that employers will expect workers to share the cost of adding each extra dependent to their plan. Watts said 14% of employers surveyed by Mercer last year said they would consider charging higher premiums when a dependent is added. We'll know how much higher during the upcoming open enrollment.
The eHealth survey of 500 parents of full-time college students and recent grads shows just how uneasy parents are about the costs of the new provision.
43% of parents would keep their adult kids on their plan only if it was free.

38% of parents said they don't plan to keep their kids on their health insurance plan until age 26.
30% said less than one year was the fairest amount of time to provide adult kids with health insurance.
56% said they would either not provide any financial assistance at all or do so for one year or less.
It remains to be seen if these results turn out to be a trend, said Mercer's Watts. She said it will depend on how much more expensive employers make it for workers to take advantage of the benefit.