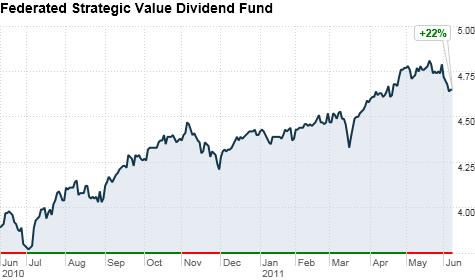 With a low-yield environment, experts suggest investing in dividend stocks. Click chart for more on the fund.
CHICAGO (CNNMoney) -- With bond yields expected to hold near record lows for an "extended period," experts say investors should turn toward dividend stocks to get better returns.
"Interest rates are very low, and the Federal Reserve has made it clear that it wants to keep it that way," said Robert Johnson, Morningstar's director of economic analysis at the firm's annual investment conference in Chicago. "But inflation is running at an annualized rate of about 3.5%, so anyone invested in short-term Treasuries is losing money."
For higher real returns and relatively low risk, stocks that pay dividends are a solid bet in the current trading environment, said Josh Peters, an equity strategist at Morningstar.
Peters is a particularly big fan of companies that deliver steady payouts, and have strong growth prospects that would drive dividends higher over time, such as Procter & Gamble (PG, Fortune 500).
"P&G doesn't get much credit for its exposure to emerging markets," said Peters, adding that the company's growth allowed it to boost its dividend by a healthy 9.5% in fiscal 2010, a trend which is likely to continue.
Peters also likes Abbott Laboratories (ABT, Fortune 500) and American Electric Power (AEP, Fortune 500).
He recommended the Federated Strategic Value Dividend Fund (SVAIX), which includes Abbott Labs in its top holdings, as a mutual fund that captures those dividend stocks that have room to grow.
Bond bear Bill Gross, who kicked off the Morningstar conference Wednesday, also cited dividend stocks as a better bet the Treasuries in the current low-yield environment.
P&G, Coca Cola (KO, Fortune 500), and Johnson & Johnson (JNJ, Fortune 500) were among the multinationals that he cited as good bets.