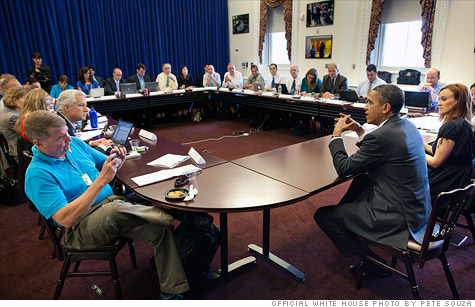 Obama shared his grandmother's personal financial advice with journalists Wednesday.
WASHINGTON (CNNMoney) -- "Don't spend all your money."
That piece of personal financial advice comes from the 44th President of the United States.
President Obama took a brief break from weighty policy discussions to share the financial advice from his grandmother with Wednesday's White House conference for Web-based personal finance journalists.
The president said his grandmother, who worked her way up from a secretary to a vice president of a regional bank in Kansas, told him: "Save a little bit out of whatever you're earning. And the magic of compound interest applies."
Obama obviously does think there are times when you have to borrow. When he and the First Lady graduated from Harvard Law School in 1991, they were buried in a combined $125,000 of debt. He said it took them 10 years to work it off.
"I'm very sympathetic to what young people are going through now," Obama said, referring to the high cost of college. "We were lucky, because we had gone to good law schools, and we knew that we could earn it. It was still a good investment."
He talked about how consumers need to have fiscal discipline, and save from each paycheck, while making smart investment choices. He said his first starter home was a condominium, which cost $180,000 at the time. As Harvard-trained attorneys, the Obamas could "comfortably make payments," on the mortgage and student loans.
"That was a good investment," he said.
The Obamas are now worth at least $2.8 million, much of it made from the success of the president's best-selling books, "Dreams From My Father" and "The Audacity of Hope," whose sales skyrocketed when he ran for national office.
The financial cushion has made it easier to save for his own daughters' college education. The Obamas have between $200,000 and $500,000 squirreled away in 529 college savings plans for their daughters, Malia and Sasha.
Obama said that he and Michelle have always tried to heed his grandmother's financial advice to save -- "and not always successfully I might add."
He said he's sympathetic to the great financial pressures on American families when it comes to making big ticket financial decisions about savings and investments.
"When you combine, what a lot of young people are going through, with college debt, and then you're trying to get your first home started, and then you immediately start saving for your kids' college education, and then you may have to also be helping our your parents with their retirement -- that's a quadruple whammy if I'm not mistaken," he said.
He said his grandmother's financial advice works for the country, too.
"If we're borrowing for things we don't need. That's a problem," Obama said, saying it's OK to borrow for "sound" investments such as schools, clean energy and infrastructure.
"In these debates the other side is going to say investment is just another word for spending," the president said. "There is a distinction to be made on spending on things that are going to make you more competitive over the long term, to increase your wealth, and spending on things you'd like to have, that aren't really improving your life over the long term."
"And that's an important distinction that we as a country have to make," Obama said.