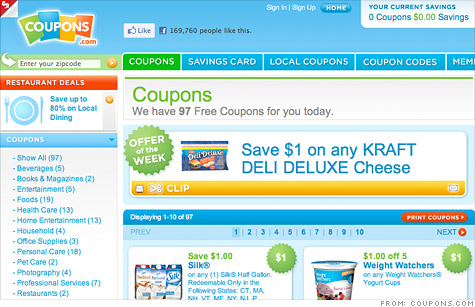 NEW YORK (CNNMoney) -- Call it "the Groupon effect": Investors are flinging money at sites that help consumers pinch their pennies.
Coupons.com announced a $200 million financing round on Thursday from institutional investors that the company declined to name. The round valued the Mountain View, Calif., company at $1 billion, according to a source close to the deal.
The online coupon distributor has been around since 1998, so why the financing round now? Coupons.com CEO Steven Boal says it's an ideal time to take on capital and expand.
"The economy continues to be tough," he said. "Frugal is the new black; people are looking for savings more than they ever have before."
It's the first publicly announced financing round for the dot-com survivor, which plans to add another 100 employees this year to its current staff of 300. A company representative said Coupons.com has taken previous venture capital funding, but declined to disclose any details.
Groupon's stratospheric growth is having a halo effect on the entire discounts-and-deals market. On top of the $1 billion Groupon recently raised, investors have also showered large sums on direct rivals like LivingSocial, which snagged $400 million in April from backers including Amazon (AMZN, Fortune 500).
"Groupon is making the entire space look very shiny," said Mary Song, CEO of travel deals site Yuupon.
Boal said that the Groupon hype "can't hurt," but he sees his company serving a very different market. Coupons.com's main rival is the shrinking daily newspaper -- it targets the same audience of coupon-clippers. The site has a devoted fan base that that has made it one of the Web's top-50 most-trafficked sites, according to Nielsen.
"We're a 14 year old company and healthy by all measures," Boal said. He declined to comment on the site's revenues or profitability.
Coupons.com plans to use the cash infusion for hiring, new mobile products, acquisitions and international expansion. But -- taking another page from Groupon's book -- the site also plans to pay off its early backers. Up to $100 million of the newly raised funds will be used to buy shares back from employees and early investors.
Yuupon's Song says Groupon's stratospheric growth has sparked a resurgence of investor interest in the consumer-discounts field.
"Two to three years ago a lot of things came to a halt," Song said. "There's sort of a pent-up demand for finding decent investments, and this model has proved itself as a great place to place a bet."