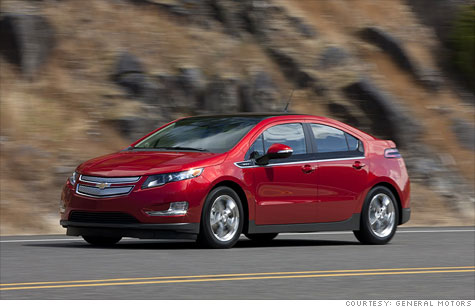 With the Chevrolet Volt becoming available in all 50 states, GM is introducing a cheaper entry level model. But prices for most versions of the car will go up.
NEW YORK (CNNMoney) -- General Motors announced Friday a cheaper, stripped-down version of its Chevrolet Volt plug-in hybrid for the 2012 model year.
The base price of a 2011 Volt is $41,000 while the base price of the 2012 Volt will be a little lower: $39,995. To make up for that $1,005 price drop, the base Volt will no longer have navigation -- although it will still have the computer touch-screen -- and it won't have the upmarket Bose stereo.
With order banks opening across the nation, Volt prices will be going up, not down when comparing similarly equipped models.
For example, the price of a fully loaded 2012 Volt will be $46,265. That's almost $1,600 more than last year.
"It's just ordinary price increases," GM spokesman Rob Peterson said.
These prices do not include an available $7,500 federal tax credit for purchasing the car or any state or local tax incentives. GM (GM, Fortune 500) will also be offering a greater variety of option packages on the Volt as well as two new interior and two new exterior colors.
"We are giving consumers greater choice of content as the Volt becomes available nationwide by the end of this year," said Cristi Landy, Volt marketing director, in an announcement.
GM recently announced it was increasing the price of its products, across the board, by an average of $123 per vehicle in the face of rising materials costs.
At the same time as it announced the pricing changes, GM also said it is opening order banks to handle requests for the Volt from all 50 U.S. states.
In the relatively tiny market for electric cars in the U.S., the Volt already faces competition from the fully-electric Nissan (NSANY) Leaf and will soon by going up against the plug-in Prius from Toyota (TM) and Ford Motor Co.'s (F, Fortune 500) recently announced plug-in hybrid, the C-Max Energi.
Up to now, the Volt has only been available in the Washington D.C. area, California, New York, Connecticut, New Jersey, Texas and Michigan. The automaker announced in January that it was accelerating plans for the nationwide roll-out of the Volt.
GM recently announced it was temporarily shutting down the Volt production line in order to prepare for the car's nationwide roll-out as well as for sales of the car in China and Europe.