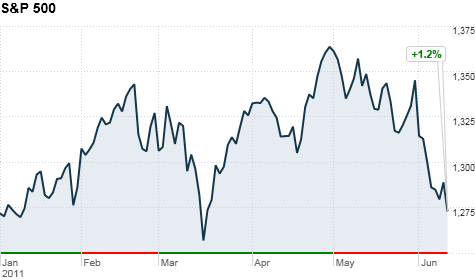 The S&P 500 has been seesawing all year, but BlackRock CEO Larry Fink says stick with stocks for the long term. Click chart for more on markets.
CHICAGO (CNNMoney) -- Stocks have been sliding over the past several weeks, as investors worry about the recent spate of gloomy economic news, but BlackRock CEO Larry Fink said investors need to snap out of their funk.
"The greatest challenge in the investment world is that we focus on today instead of our long-term objectives," Fink told more than 1,600 attendees at the annual Morningstar investment conference in Chicago, adding that fixating on the current quarter or year is "inappropriate."
"If investors consider a 10-year horizon, they have no choice but to be in equities," he said.
Fink, whose firm manages more than $3 trillion in assets, also issued a warning to investors who have been escaping from the stock market and plowing funds into Treasuries. The recent rally in bond prices has pushed the 10-year yield below 3% for the first time since December 2010.
"You won't have adequate retirement funds if you are heavily invested in too many bonds," said Fink. "You own a 3% asset because you're frightened of today."
While Fink encouraged investors to stick with the stock market, he warned that it will be a bumpy ride.
"I'm not that bearish, but I didn't come into this year thinking we'd have 3% GDP," he said. "The economy is going to be really bouncy for the next four years."
That's especially true since the housing market will likely remain weak for the next few years, Fink said.
He added that economic growth could diminish by another percentage point a year over the next decade if the government implements a plan to reduce the country's debt by $4 trillion. That would leave GDP at about 1% on an annual basis.